TAMPA, FL – JUNE 25: The Tampa Bay Lightning celebrate the game and series victory against the New York Islanders in Game Seven of the Stanley Cup Semifinals of the 2021 Stanley Cup Playoffs at Amalie Arena on June 25, 2021 in Tampa, Florida. (Photo by Scott Audette/NHLI via Getty Images)
The reigning Stanley Cup Champions Tampa Bay Lightning will face off against former Atlantic division rival Montreal Canadiens in Game 1 of the 2021 Stanley Cup Finals on Monday night.
To say this seasons' playoffs have been exciting would be an understatement. The reigning champions from Florida have put on a show en route to their second consecutive finals and 4th finals appearance since the club's inception.
But Tampa faces a streaking and surprising postseason Canadiens squad that is coming off a hard-fought series against the heavily-favored Vegas Golden Knights.
The Habs have won 11 of their last 13 games in the playoffs this year, a surprise considering they narrowly clinched the final spot to make the postseason in the first place.
The Lightning are entering the cup finals after fighting off the New York Islanders in seven games, five of which were decided by less than two goals.
Montreal enters this series as major underdogs yet again because of Tampa's home-ice advantage and success playing at the Amalie—Tampa has won six of their last eight home games in the Bay area.
"It took a lot to get here: the heartbreak in 2015 getting all the way to the final and losing and then 2016 going to Game 7 against Pitt, losing that one, 2018 against Barry Trotz (and the Washington Capitals) — he beat us in Game 7 in this building, the heartbreak to Columbus in 2019," Tampa Bay coach Jon Cooper said. "It was all building blocks to get to here."
Oddly enough, this series will complete a full circle for both teams as it marks the first time the two meet in the playoffs since the Lightning defeated the Habs six years ago.
Let's take a look at how the two teams faired in the playoffs this season and the key players to watch out for in the series:
Tampa Bay Lightning
First Round – Lightning defeated Panthers 4-2
Second Round – Lightning defeated Hurricanes 4-1
Stanley Cup Semifinals – Lightning defeated Islanders 4-3
Key Player to watch out for: Winger Nikita Kucherov
Montreal Canadiens
First Round – Canadiens defeated Maple Leafs 4-3
Second Round – Canadiens defeated Jets 4-0
Stanley Cup Semifinals – Canadiens defeated Knights 4-2
Key Player to watch out for: Goaltender Carey Price
Both teams defeated arguably the best of the best in their conference en route to this year's finals showdown. But only four games sit between the two teams and the cup.
"We know what's expected of us and each other's roles, and we expect a lot of one another. We hold ourselves accountable, and that's been proven to work so far," Lightning alternate captain Victor Hedman said. "One more hurdle before one of these teams is hoisting the Cup. But we're super excited to be back here once again."
Montreal is considered hockey royalty in the National Hockey League, having won the cup an NHL-record 23 times since the league started and coincidentally the league's birthplace 104 years ago.
Meanwhile, Tampa is a relatively newer team when compared to the likes of Montreal, getting its start in the 90s. However, don't let the youth fool you. The Lightning is competing to become the 18th team in league history to win back-to-back Stanley Cups—Montreal has done it five times.
It's a special opportunity to participate in the Stanley Cup Final and try to bring the trophy back to Montreal," said Canadiens General manager Marc Bergevin. "I'm feeling a lot of different emotions. I'm a little nervous but excited. I'm especially proud to have the opportunity to win the Cup with Montreal. It would be the ultimate dream for me. I could retire after that."
Puck drop is scheduled for 8 p.m. ET at the Amalie Arena in Tampa, Florida.
Are you interested in Florida sports? For stories like this and much more: Florida Insider is dedicated to educating, entertaining, and informing its readers about everything Florida. Easy to read content at the palm of your hands and covering the stories that matter.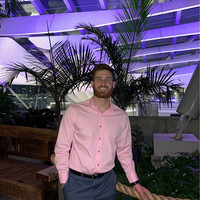 William is a South Florida native with professional experience writing at the collegiate and national news outlet level. He loves fishing, playing soccer and watching sports in his spare time and is a fan of all South Florida teams.