Courtesy: Shutterstock – Gregory Reed
According to the University of Florida athletic director Scott Stricklin, the week 7 matchup between the Florida Gators and reigning national champion LSU Tigers will be rescheduled for Dec. 12.
The news comes after reports revealed 21 players tested positive for COVID-19, 18 of which are scholarship athletes.
The team conducted a round of testing on Sunday morning following their trip to Texas A&M. According to Stricklin, Monday morning the program was informed that "several" players were reporting symptoms such as fatigue, headache, and a scratchy throat from calls the previous night.
Stricklin went on to say, "Due to a significant number of COVID cases, we are unfortunately announcing a postponement of the Florida/LSU game that was scheduled for Saturday, and have worked with Scott Woodward the athletic director of LSU along with the SEC office, Charlie Hussey, Mark Womack and, of course, Mr. Sankey to tentatively have rescheduled again for December 12."
Before the season began, the Southeastern Conference announced policies and guidelines for game postponement or cancellation/rescheduling if a team were to be directly affected by the virus. The conference highlighted that to play a football game, a minimum of 53 scholarship players must be eligible to participate in the game along with a minimum number of position scholarship players available to start a game: seven (7) offensive linemen (which includes one center), one (1) quarterback and four (4) defensive linemen.
There is a stipulation that would allow for Florida to suit up with fewer than the required amount of players for Saturday's game if the program elects to do so, however, in a 30-minute press conference, Stricklin went on to say, "We've reached a point where we don't think it's appropriate to play the game this weekend."
Program head coach Dan Mullen received criticism for his postgame comments following a 41-38 defeat at College-Station after stating he wanted to "pack the Swamp" in the upcoming matchup against LSU for a real home-field advantage.
Last week, Gov. Ron DeSantis lifted statewide coronavirus restrictions allowing professional and collegiate football games to run at "full capacity." Mullens has since apologized for his comments going on to say he didn't intend to offend anyone and that he has great respect for local health officials. The comments were likely a result of the loss on Saturday.
As of now, no reported players are experiencing anything worse than "mild symptoms."
The Gators' next matchup is slated to take place on Oct. 24 against the Missouri Tigers in Gainesville, Fla.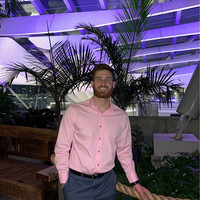 William is a South Florida native with professional experience writing at the collegiate and national news outlet level. He loves fishing, playing soccer and watching sports in his spare time and is a fan of all South Florida teams.