Courtesy: Image by mayerbl1 from Pixabay
Florida stole the show in the recent Best Places to Retire in the U.S. in 2020-2021 rankings by U.S. News.
The list analyzes data from the 150 largest metropolitan areas in the country and criteria metrics including overall happiness of residents, tax rates and quality of healthcare, and housing affordability.
Last year's number two spot, Sarasota, climbed a spot in the rankings to round out this year's list—beating out fellow Florida neighbor, Fort Myers.
Rankings have long claimed the Sunshine State to be a top spot for retirement and living in the nation.
Sarasota is just minutes away from world famous Siesta Key Beach, making it a prime destination for retirees and dream beach-homes. It is also conveniently located an hour away from Tampa and two-hours from Orlando.
While Sarasota may be the best place to retire, it faces steep competition from neighboring cities within the state.
Rounding out the top-10 are the following cities including six other Florida cities:
Sarasota, FL
Fort Myers, FL
Port St. Lucie, FL
Naples, FL
Lancaster, PA
Ocala, FL
Ann Arbor, MI
Asheville, NC
Miami, FL
Melbourne, FL
The list gave Sarasota a 7.6/10 overall score for retirement based on the following metrics.
Along with its retirement rankings, U.S. News released another list highlighting the Best Places to Live in the U.S., with seven Florida cities coming in the top-50.
Sarasota came in at #16 in the country, trailing only Naples within the state at #14.
With year-round warm temperatures, cultural diversity and some of the best beaches in the world it's no wonder Florida continues its reign as one of the best places to live.
For more information on places to visit in Florida, click here.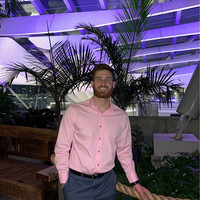 William is a South Florida native with professional experience writing at the collegiate and national news outlet level. He loves fishing, playing soccer and watching sports in his spare time and is a fan of all South Florida teams.