Aerial view of Doak Campbell Stadium on Florida State University's campus – Courtesy: Shutterstock- Image by Felix Mizioznikov
Florida State University's famed Doak Campbell Stadium, home of the Seminoles football program, may soon have a new name.
According to the Tallahassee Democrat, the university's anti-racism task force panel held a meeting to discuss the potential of keeping or changing the iconic stadium name. Members of the Historical Legacy Subcommittee voted 6-2, rejecting a recommendation by FSU history professor and subcommittee chair Maxine Jones to retain the Campbell bearing name last Wednesday.
Doak S. Campbell served as president of Florida State from 1941-1957 and oversaw the transition from Florida State College for Women to Florida State University. The stadium was named after Campbell in 1950.
The reason for the vote comes after former FSU linebacker Kendrick Scott created a petition to remove the former president's name from the stadium facade because of what Scott perceived to be Campbell's pro-segregation stance at the time.
Despite his questionable history, such as keeping the campus segregated and banning FAMU students from on-campus activities, Jones said she couldn't find documented evidence that the former university president was an outward racist. Instead, she believes Campbell was following the rules of the day, including the ones set in place by the then-Board of Control, who regulated state universities.
"To single out one person because of what he didn't do, (and) I'm not sure what we expected him to do, even though based on the research I've done, he also worked behind the scenes (to address race relations)," Jones said. "I don't see how we can cherry-pick and say that he didn't do enough."
She continued to point out that if Campbell's name were to be removed from the stadium based on his segregationist system at the time, "then we need to remove every name on every building, not just on campus, but downtown as well."
The two votes in favor of keeping the name were Jones and FSU men's basketball player Malik Osborne. Osborne cited Jones' presentation and historical input and pointed out that he saw "multiple examples of support of students, including students at FAMU, and the FAMU president."
The committee ruled against taking immediate action to change the stadium's name and will instead have a second meeting to discuss the naming issue where a final recommendation has to be approved by the full 30-member President's Task Force on Anti-Racism, Equity and Inclusion.
As of now, there are no other proposed name changes to the site.
Are you interested in Florida sports? For stories like this and much more: Florida Insider is dedicated to educating, entertaining, and informing its readers about everything Florida. Easy to read content at the palm of your hands and covering the stories that matter.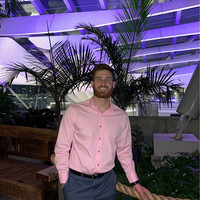 William is a South Florida native with professional experience writing at the collegiate and national news outlet level. He loves fishing, playing soccer and watching sports in his spare time and is a fan of all South Florida teams.