Courtesy: Andre van Rensburg/ Ocean Sotheby's International Realty
It's no surprise that Florida has been a hot market during the pandemic for real estate.
Hundreds of new families are moving to the Sunshine State every day in search of prime real estate due to a variety of reasons. The shift to work from home demands from large companies have allowed employees to relocate practically anywhere in the country, large tech companies are shifting their operations to Florida thanks to generous tax breaks, and the weather is just too hard to ignore.
Now, buying a home is one thing during a pandemic. But buying a private island… is next level.
While the buyer has not been identified, luckily, we know what the property offers.
Record-Breaking Sale
An almost five-acre private island plot in the Florida Keys has sold for a whopping $11 million, claiming the top spot on the Florida Keys record book for the priciest sale in Marathon, Florida, and the most expensive private island sale in the Florida Keys.
"Here in the Keys, $11 million is a record sale," said listing agent Pierre Marc Bellion of Ocean Sotheby's International Realty.
According to sales history on Zillow, the private island sold for 40 percent more than the next biggest sale on the key.
The Island and Property
For $11 million, one would expect a lot of space and amenities.
This island delivers.
The private island includes deep-water dockage for larger boats and a bridge from the mainland to the property. Of course, as one would expect, the property is only accessible to residents and private guests.
Per the realtor, the property features a 15-boat marina, a main house with porches on both the first and second floor, a four-bed, four-bathroom guest house, and a one-bedroom cottage with its own beach and a swimming pool.
The deep-water docking will be the perfect setup for the buyer who also owns a 118-foot boat.
"In the Florida Keys, we have pretty shallow waters everywhere," Bellion added. "It's not easy to find a property where you can have a 100-foot boat, but this buyer owns a 118-foot boat that he is going to keep there, and that is absolutely unique."
Needless to say, this island has no shortage of space.
Real Estate Shift in the Keys
According to Bellion, the Florida Keys are still largely undiscovered to non-Floridians. Buyers largely overlook the proximity to the Caribbean and instead opt for South Florida properties along the coast such as Palm Beach, Ft. Lauderdale, Miami Beach, etc.
"In Miami, you have people coming from all over the world—but these people don't know about the Keys. It takes 10 years to realize that if they drive one hour, they are literally on Caribbean islands," he added. "The Keys are still completely unnoticed, and that's why I think the coming years are going to be amazing."
The private island was originally listed in March 2019 for $15.5 million per listing records. Whoever the buyer was, scored themselves quite the deal.
Are you interested in Florida real estate? For stories like this and much more: Florida Insider is dedicated to educating, entertaining, and informing its readers about everything Florida. Easy to read content at the palm of your hands and covering the stories that matter.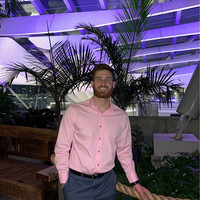 William is a South Florida native with professional experience writing at the collegiate and national news outlet level. He loves fishing, playing soccer and watching sports in his spare time and is a fan of all South Florida teams.