Courtesy: Naples Florida Weekly
It's crazy to think that up until the early 2000s, a map was the GPS of the past. Now, two decades removed from GPS's popularization, we entrust our cars and smartphones to lead us to our destination.
Turn right in 500 feet. Wrong.
Even with the countless leaps in technology, our devices still mislead us in the wrong direction occasionally. Whether it is an early turn, failing to mention a 3-hour traffic roadblock or the direction doesn't exist, the Global Positioning System and navigation tools at our disposal is an example of perfect imperfection.
But back in the age of the dinosaur… explorers didn't have access to the tools we do today. Instead, they relied on these physical, archaic, hand-sketched pieces of paper with abstract shapes and lines running across them—maps.
Located in the 'Shape We're In' exhibit at the Tampa Bay History Center's Touchton Map Library lies one of the first suspected maps to depict Florida. Consider it the Declaration of Independence of Florida maps.
The map, published in 1511, was in a book that was confiscated by the king of Spain.
First reported by Fox 13 Tampa Bay, the map is said to be one of 20 in existence, according to Rodney Kite-Powell of the Tampa Bay History Center. How's that for rare?
As years went by, explorers and visitors to the state would redact the existing maps and create their own versions.
While maps are mainly used for exhibit purposes nowadays, they are far from obsolete as researchers still use them to study environmental changes and sea levels.
If you would like to see this map and many others, you will have until July 4, 2021, to visit the 'Shape We're In' exhibit.
For more information on the Tampa Bay History Center, click here.
The Touchton Map Library and Florida Center for Cartographic Education is home to thousands of maps, charts, and other documents dating back from the early European exploration of North America more than 500 years ago up through the early 21st century.
Are you interested in Florida history? For stories like this and much more: Florida Insider is dedicated to educating, entertaining, and informing its readers about everything Florida. Easy to read content at the palm of your hands and covering the stories that matter.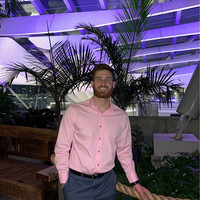 William is a South Florida native with professional experience writing at the collegiate and national news outlet level. He loves fishing, playing soccer and watching sports in his spare time and is a fan of all South Florida teams.