Centro Español in 7th Ave in Ybor City – Courtesy: Shutterstock – Image by VIAVAL TOURS
Located in Hillsborough County lies a small, cobblestone-laden, Cuban-influenced, historic small town known as Ybor City.
Ask any Floridian, Tampa Bay natives especially, about Ybor City and its significance to the State of Florida, and they will tell you it is one of the most overlooked spots in the state.
Nestled Northeast of Tampa's downtown area, Ybor City is one of the most historic Cuban/Hispanic small towns in the state with some rich history.
Here you'll find one of only three National Historic Landmark Districts in the Sunshine State buried in one of the largest and fastest-growing metropolitan areas in the state.
And while most people who travel to Tampa acknowledge Ybor City's vibrance and amenities, it's constantly overshadowed by the surrounding downtown bay area.
And today, we are going to give Ybor City its fair share of the spotlight by giving a brief history about the vibrant district established at the turn of the 19th century.
Ybor City – "Cigar Capital of the World"
Annexed by the City of Tampa in 1887 and founded by Spanish-born Vicente Martinez-Ybor, Tampa's Ybor City was a town with a different identity from the already slightly established Tampa.
Ybor and his partner Ignacio Haya purchased an undeveloped piece of land with the idea of creating a hardworking community with the influence of Spanish Cuba. Before moving to the United States, Ybor lived in Cuba for 15 years working in the factory industry and cigar-manufacturing business, and even penned his own brand, "Prince of Wales," with great success.
Together, the two created a partnership to bring their business stateside in Tampa, Florida. After establishing businesses in New York and Key West, the pair decided to make their move to the warm, humid climate in Tampa, and from there, the rest is history.
In 1886, Ybor and his colleagues supervised the construction of some 176 worker houses in Ybor City, the eventual home for 3,000 workers hand-rolling cigars in new factories.
It was at this moment that Ybor's cigar background would transition into a worldwide phenomenon. By 1890, the city's population had grown twofold to roughly 6,000 people, with a large percentage comprising of Cuban immigrants, 15 percent of which were Afro-Cuban.
By 1900, Ybor City's manufacturers produced the highest-quality, hand-rolled tobacco products in the world. Yes, Ybor City surpassed the gold standard of Havana, Cuba. This renaissance helped coin the city as the "Cigar Capital of the World." Sadly, Ybor would not live past 1896 to see his hard work gain such acclaim.
Not long after, other prominent Latin cigar brands joined Ybor's manufacturing monolith in Tampa and grew even more. By the time the roaring 20s rolled around, cigars were being produced in 36 different shapes and sizes.
Unfortunately, the cigar industry suffered great losses in the late 20s and early 30s due to the Great Depression and later again due to a mass exodus of immigrants during World War II.
Despite a slight recovery after the war, Ybor City would never return to its glory days. But after urban renewal projects in the city began tearing down parts of the historic district in 1965, a local movement began to preserve the remaining important buildings.
Today
Today, Ybor City continues to serve as a heavily influenced Cuban/Hispanic town in the heart of Tampa, and cigars can still be purchased from small storefronts along Ybor's 7th Avenue.
Along this busy street, tourists and locals alike can get their fix of fresh hand-rolled cigars at the following spots:
So the next time you visit Florida or Tampa, swing by Ybor City and pick up a stogie or visit the local breweries while you munch on Cuban cuisine and remember this history lesson so you can impress your friends with some cool facts about this often overlooked gem.
Information courtesy of National Park Service/ U.S. Department of the Interior
Are you interested in Florida's history? For stories like this and much more: Florida Insider is dedicated to educating, entertaining and informing its readers about everything Florida. Easy to read content at the palm of your hands and covering the stories that matter.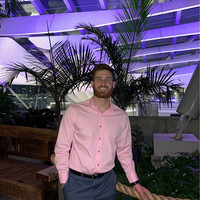 William is a South Florida native with professional experience writing at the collegiate and national news outlet level. He loves fishing, playing soccer and watching sports in his spare time and is a fan of all South Florida teams.