Yelp sticker seen at the entrance of a restaurant – Courtesy: Shutterstock – Image by Tada Images
There is much more to Florida than surf and turf, despite the fact that the Sunshine State is famous for its fresh seafood, key lime pie, and exotic umbrella cocktails. You may find some of the top locations to eat a variety of cuisines, including Cuban, Colombian, Italian, Korean, Ethiopian, Lebanese, and many more, from Jacksonville and Orlando to Miami and Key Largo.
This diversity is shown by Yelp's first-ever list of the top 100 Florida restaurants, which includes highly rated restaurants for every preference. Unbelievable crab cakes are available at Happy Snapper Seafood Restaurant in Orlando (#25) as well as wonderful Cuban sandwiches at Rumba Cuban Cafe in Naples (#5). But there's also tasty carne asada at Taqueria El Asador in Pensacola (#3), zingy pad thai at Larb Thai-Isan in Fort Lauderdale (#18), and fresh handmade pasta at Fratellino in Coral Gables (#1) and Pane & Vino in Miami Beach (#6).
If you're in the mood for seafood, head to J Crab House in Kissimmee (#53), Poke Jay in Boca Raton (#16), and Franky's Deli Warehouse in Hialeah (#19), where you might potentially get the tastiest tuna sandwich in the entire world. There are many options for vegetarians as well, such as The Mediterranean Chickpea in Tampa (#7), which came in at number one on this year's top 100 vegan list.
Methodology: Based on Yelp reviews, this is a list of Florida's top restaurants for 2022. Yelp identified establishments that fall under the restaurant category, and then evaluated those places based on a variety of criteria, such as the total number and quality of reviews received between January 1, 2017, and April 13, 2022. All businesses on this list, when accessible, have a passing health score as of April 20, 2022.
Stories that matter are our priority. At Florida Insider, we make sure that the information we provide our readers is accurate, easy-to-read, and informative. Whether you are interested in business, education, government, history, sports, real estate, nature or travel: we have something for everyone. Follow along for the best stories in the Sunshine State.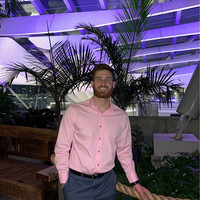 William is a South Florida native with professional experience writing at the collegiate and national news outlet level. He loves fishing, playing soccer and watching sports in his spare time and is a fan of all South Florida teams.