Courtesy: Bake it On Wheels website
Ever wondered what it's like to bake your favorite sweet creations or host a party without the mess and cleanup? The days of having cake batter and cookie dough all over your kitchen counters and cabinets are over.
This South Florida business has reinvented the party wheel.
Literally.
Introducing Bake it On Wheels. This unique concept merges the traditional party or get together experience with a DIY sweet treat creation "happy-hour."
From the state-of-the-art fully equipped baking bus, to the Sprinkle Station, this is an experience that will have you wishing you were eight-years-old again.
In 2019, after years of entrepreneurial experience in the baking/cake industry, Natasha O'Connor, co-host of the SoFlo Cake & Candy Expo and former co-manager of a successful local Miami cake supply shop, Bake it On Wheels was born.
After realizing her love for baking and making kids smile, Natasha created Bake it On Wheels to make that dream a reality.
According to the website, her first employee was her daughter Brianna!
Whether you're looking to host a birthday party or adult-only baking event, Bake it On Wheels puts the power of baking without making a mess of your kitchen or having to find a venue.
The bus
Bake it On Wheels is exactly what it sounds like. Think of your ordinary, boring, yellow-school bus minus the ordinary, boring, and yellow. Decorated with sprinkles and cupcakes followed by a pink and pastel green-blue color scheme on the outside and inside— the bus' aesthetic is sure to raise one's blood sugar levels just by looking at it. Yum.
According to the website here's how your party bus comes equipped:
Preset baking workstations
18-person seating arrangements
Temperature controlled environment
Convection ovens
Microwaves
Variety of stand mixers
Refrigerating options
Decorating tools
Wall-to-wall shelving with ingredients and materials
How it works
Convenience is at the helm of the operation. Pick from one of their three party packages and fill in the guest total, select a date and time based on availability, package add-ons, and secure reservation with 50% deposit (non-refundable). After placing your reservation, one of their " sugar-coated coordination specialists" will reach out within 48 hours of your request to cater specific requests , answer questions and finalize event details. Once that is complete, you are on your way to sugar heaven!
Kids are greeted with a "Frostini – Cotton Candy Mock Martini Kid Drink upon arrival."
Just make sure everyone is on time because this is a timed party. For more details on how it works, click here.
This is not just for kids though. Adults, there is an option for you too. This bakery on wheels also provides a "Bake It & Booze" package for you to elevate your next happy-hour friendly gathering. Just BYOB and snacks and they will take care of the rest. They even offer adult cupcake flavors if you're into that stuff.
According to their website the following flavors are available:
*Margarita Cupcakes
*Spiced Rum Cupcakes (*Customers Favorite)
*Non-alcoholic Vanilla Cupcakes
*Reminder to drink responsibly*
Bottom-line, Bake it On Wheels does it all. Be the talk of your block and friend group or grab your kids, nieces and nephews and throw them a party they will never forget.
Bake it On Wheels is currently servicing Miami-Dade County and parts of Broward.

Click here for more information on booking and pricing.
If you want to check out their Instagram account, click here.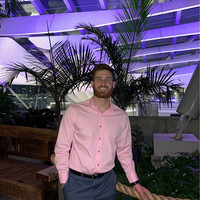 William is a South Florida native with professional experience writing at the collegiate and national news outlet level. He loves fishing, playing soccer and watching sports in his spare time and is a fan of all South Florida teams.