Four women of various demographics, young blonde woman in front, filling in ballots and casting votes in booths at polling station, US flag on wall at back. Focus on booth signage– By vesperstock
*In a press conference held in Tuesday afternoon in The Villages, Florida, Gov. Ron DeSantis announced that due to an online system crash on Monday, voter registration will be extended in the state through 7 p.m. Tuesday evening.*
The voter registration deadline for the 2020 elections is here for Florida residents.
Today, Oct. 5., marks the final day to register to vote if you are a resident of Florida and haven't already done so.
What does this mean?
Voter registration deadline simply means if you wish to participate in the presidential, local county and state official election come Nov 3., today is your last day to be eligible to do so. Although today marks the final day to register, the decision of who and what you vote for/on does not have to be made right this second. However, the clock is ticking and just like we thought November was years away at the start of this year— it's now just weeks away.
Here's what you need to know.
According to Florida's Division of Elections to register to vote in Florida, you must:
Be a Citizen of the United States of America (A lawful permanent resident, commonly referred to as a "green card holder," does not have the right to register or vote in Florida);
Be a Florida resident;
Be at least 18 years old (You may pre-register to vote if you are 16 years old);
Not have been adjudicated mentally incapacitated with respect to voting in Florida or any other state without having the right to vote restored;
Not have been convicted of a felony without your voting rights having been restored.
How do I register?
The easiest and most convenient way to register to vote is by visiting RegisterToVoteFlorida.gov and filling out the online form. Among other ways to register, you may visit your local DMV, voter registration agencies, tax collector's offices that issue driver's licenses or identification cards, or by mail. Because of COVID-19, it is recommended that you call your local registration agency before visiting to make sure they are open.
What's at stake?
Apart from the elephant in the room regarding the four-year stake for President of the United States between incumbent President Donald Trump and former Vice President Joe Biden, voters have the responsibility to vote on the six Florida constitutional amendment proposals that will be present on the same ballot. To view the proposed amendments click here.
Keep in mind, you must be registered to vote in the State of Florida before casting a ballot.
If your mind is still not made up, fear not, you have until Election Day on Nov 3., to read up on the candidates and the amendments featured on this year's ballot. If you plan on voting via absentee/mail-in ballot, you have until 5 p.m. Oct. 24., to request a ballot, but don't wait until the last minute due to expected delays as a result of the pandemic and increases in requests.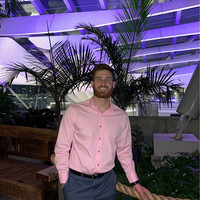 William is a South Florida native with professional experience writing at the collegiate and national news outlet level. He loves fishing, playing soccer and watching sports in his spare time and is a fan of all South Florida teams.