Courtesy: ArX Solutions/ Waldorf Astoria Website
Step aside, New York; there will soon be a new big building city on the East Coast.
Florida isn't necessarily known for tall, glamorous residential or commercial buildings. As it stands, the tallest building in Florida is the Panorama Tower in the Brickell area of downtown Miami. The 85-story skyscraper is a commercial and residential building that soars 849-feet (259-meters) above sea level. But, that building will soon be dwarfed by a newcomer in the form of a Waldorf Astoria property.
Once completed, the Waldorf Astoria Residences Miami will be the tallest residential building in the state of Florida and the tallest south of New York's Manhattan residences.
Towering over 1,000 feet above Miami's downtown Biscayne Bay area, the property will be home to 360 private residences spread throughout 100 floors and nine offset, glass-doned cubes.
With prices for residences starting at just under $1 million, any resident with a bay view, regardless of what floor they are staying on, will have unobstructed views of the entire city. Of course, the higher up, the higher the premium of living will be.
"The Waldorf Astoria brand is known for its pristine, secure, efficiently run hotels and residences. This will, of course, be reflected in the Miami property," Ryan Shear, managing partner of PMG, told Mansion Global.
The property will mark the long-awaited debut of the Waldorf Astoria brand in the Miami area and will join other high-class city residences such as those in New York and Dubai.
Florida has been quite the real estate hotspot since the pandemic began, and according to a February data report by the Miami Association of Realtors, luxury single-family home sales jumped 41.2% YoY to 1,477 transactions in 2020 in Miami-Dade County. An additional 837 luxury condo sales lead to a 1.6% increase in the condo sector over the same period.
According to Shear, the demand for homes in the area expedited plans for a project of this magnitude.
"In terms of timing, we understood a number of variables needed to line up to launch a product of this caliber in Downtown Miami. We waited for the opportune moment with the migration to South Florida from domestic markets at an all-time high," he said. "PMG has been making progress over the past few years to transform the Downtown Corridor, and Waldorf Astoria Residences will lead the charge for this evolution."
With luxury listing sales at their highest in years, the Waldorf Astoria in downtown Miami will surely make a splash in the market and provide some of the most sought-after views along the entire eastern seaboard for years to come.
Sales for the property sites are currently available, but will likely go fast.
For more information about the property visit, https://www.waldorfastoriadowntown.com/residences
Are you interested in Florida real estate? For stories like this and much more: Florida Insider is dedicated to educating, entertaining, and informing its readers about everything Florida. Easy to read content at the palm of your hands and covering the stories that matter.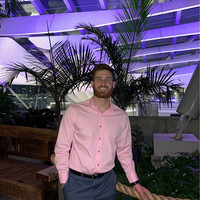 William is a South Florida native with professional experience writing at the collegiate and national news outlet level. He loves fishing, playing soccer and watching sports in his spare time and is a fan of all South Florida teams.