"OCA" The Grove's soon-to-be first and only full-blown Cuban restaurant with full bar in the area. Courtesy: Florida Insider- Photo taken by William Prego
It has been a difficult year for restaurant owners nationwide, especially in places like South Florida, where rent is well above the national average.
But diamonds are created in the rough, and one local Miami business owner is hoping to spice up his restaurant catalog during these unprecedented times.
Manuel "Manny" Montes de Oca has always envisioned opening an upscale-Cuban dining experience. And while opening a restaurant is never an easy feat regardless of the situation, Manny hopes his passion for food and entrepreneurship will allow his new business venture to shine bright in Miami's oldest neighborhood, Coconut Grove.
Known by locals as "The Grove," the small neighborhood occupies roughly 5.6 sq. miles in the City of Miami and is home to an extensive catalog of superstars from around the globe. And while the glamour and history of Coconut Grove are noteworthy, the origin behind Manny Montes de Oca's high-end Cuban fare dream is the real story.
We sat down with co-founder/owner Manny of "OCA" to get an inside-first-look at the soon to be, first and only full-blown Cuban restaurant with a full bar in the Grove.
"I always wanted to have something upscale that was a descendance of my previous chain of restaurants," said Manny Montes de Oca, in an exclusive interview with Florida Insider.
Origin
Manny comes from a storied family of Cuban pizza artisans in the South Florida community. Having fled from Cuba in May 1980, during the Mariel Exodus, the Montes de Oca family immediately invested into Miami's growing Cuban community by popularizing the Cuban pizza.
One year after landing in Miami, Manny's parents purchased a local, unknown pizzeria at the time, "Rey's Pizza." "Rey" in Spanish means "King," and the family decided to keep the name due to its meaning and relevance among the Cuban people. It was then that the family's "Rey's Pizza" restaurant began to expand and popularize Cuban pizza.
After years of running the successful business and opening a second location, Manny's parents decided to sell their stake of shares in the second location to a partner and simultaneously rebrand the original first store. A few years after operating their new pizza place, they sold it and decided to open "The Original Rey's Pizza" in 1989. Fast forward to 1994, the new owners of "Rey's Pizza" had amassed five total locations, and Manny's parents had three "Original Rey's Pizza" locations. Shortly after, the owners of "Rey's Pizza," the Rodriguez family, began a three-year litigation battle against the Montes de Oca family over the name "Rey's Pizza."
In 1996, Manny opened a pizzeria of his own at the age of 21 under the family moniker during the legal battle—and later convinced his parents to stop fighting in court a year later to instead focus on using the family name Montes de Oca, as Manny had done so over the past year in his own venture. Low and behold, the Montes de Oca family now had 3 original pizzerias and Manny's standalone "Montes de Oca Original Pizza Cubana." By 2001, Manny's parents passed their shares of the original three pizza shops to him, where he became the owner and operator of the chain at 25 years of age.
Fast forward to 2018; Manny sold all remaining shares he had in the chain and placed his focus on other business ventures while collecting whatever was left in royalty fees and licensing agreements from the sale. But it wasn't until the height of the pandemic earlier this year that his lifelong itch to create a high-end Cuban dining experience would reignite and no longer stay dormant.
"I started looking for a location and I came across this one, and I thought to myself, 'This is perfect.'"
Inspiration, Layout, and the Future
"OCA" will occupy a 3,200 square-foot space in the heart of Coconut Grove, just steps away from Miami's City Hall. The Grove has seen a bit of a decline in business over the past few years, but with recent investment opportunities and local development, the area is looking to catch a second wind, and OCA is hoping to help that become a reality.
"The Coconut Grove Chamber of Commerce has been very supportive and welcoming during the process," said Manny. "On a daily basis, I have people pass by the restaurant on the sidewalk asking me what is coming, and when they hear it's a Cuban restaurant, a smile comes to their faces. The Grove has been craving this for such a long time, and I'm just happy and proud to be the first to bring this to life."
OCA is targeting a February 2021 opening and will feature a full bar, a performance stage for local bands and artists, an outdoor dining area, and an expansive Cuban menu that will highlight all the traditional dishes such as vaca frita (fried shredded beef), ropa vieja (shredded beef in tomato sauce), Carne con papa (Cuban beef stew), and more. Manny said he will also feature a small section in the menu that will pay homage to his famed pizzeria, serving its most popular pizzas.
While the restaurant is dedicated to serving its patrons with a premier Cuban food-fare, Manny is also looking to make the experience more inclusive to multiple cultural backgrounds by mixing in a fusion concept for his dishes. Exactly what fusion the restaurant will include is unknown at the moment, but he asserted testing is underway.
When asked about how he prepared to take on the task of opening a restaurant during a pandemic and what the process has been like, Manny cited his past experience running his pizza businesses and the blessing in disguise, if you will, that has presented him with the financial opportunity to open the restaurant of his dreams in a prime location that otherwise would've been far more difficult.
"I want to create a shock in the community— I want people to leave OCA wanting to come back and finally knowing there is a Cuban restaurant for them in Coconut Grove where they can come and enjoy themselves. Then I want people to realize that OCA stems from my pizzeria background and see how far we've come."
Manny also has plans to host a Saturday brunch option at OCA so that visitors aren't just limited to the widespread Sunday option throughout the city. He also mentioned that on certain nights of the month, he would like to have comedians and local artists perform on the restaurant's stage as a platform to help them and the community.
In a time where local small businesses have been forced to close down, restaurants were forced to limit patron capacity inside their establishment, curfews put in place, and many other existential factors hampering economic growth in one of the largest counties in America, many have lost hope. But Manny hopes to put a flame in the area and spark new hope for business owners and visitors in the South Florida community.
Location and Where to Find them
OCA will be operating at 3324 Virginia Street, Coconut Grove, FL.
If you'd like to see the progress of OCA before it opens- check them out on social media by clicking here.
Like what you see? Click here for more stories about everything Florida. Florida Insider is dedicated to educating, entertaining, and informing its readers about everything in Florida. Easy to read content at the palm of your hands and covering the stories that matter.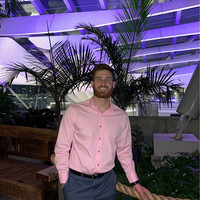 William is a South Florida native with professional experience writing at the collegiate and national news outlet level. He loves fishing, playing soccer and watching sports in his spare time and is a fan of all South Florida teams.