Forecast shows cold weather throughout Florida during Christmas weekend — Courtesy: Shutterstock — Kristi Blokhin
We adore Florida for a variety of reasons, including the state's stunning sunrises, sunsets, beaches, and pleasant climate. However, for at least one day, some people genuinely prefer the concept of having a chillier Christmas.
If you fall into that category, you're in luck since our long prediction indicates that it will be cold when Santa Claus arrives.
According to the Florida Public Radio Emergency Network, a line of storms with the potential for tornadoes and large hail will sweep through Florida, followed by a "strong" cold front.
The front will bring a risk of lightning storms, which may cause temperatures to plummet by as much as 30 degrees in certain areas. The National Weather Service in Melbourne predicts that some may intensify into severe weather.
That's nothing compared to the conditions that almost 15 million people in the United States are dealing with as a winter storm packing 80 mph wind gusts and snow causes blizzard and winter storm warnings.
"This system will then stall across the central Plains into Thursday, producing several days of heavy snow and blowing snow, including blizzard conditions, and freezing rain extending into the Upper Midwest," the National Weather Service Storm Prediction Center said in its advisory.
"Severe thunderstorms, tornadoes, and flooding will be possible in the South."
Over the next 8 to 14 days, the southeast may expect temperatures that are colder than average and rain chances that are above average. In the days before Christmas, chilly air is forecast to move south throughout the nation, according to our most recent model simulations.
In central Florida, this will result in afternoon highs in the 50s and 60s and overnight lows in the 30s and 40s. The forecast could alter since we're still more than a week away.
Beaches
Along our entire east coast, there is still a significant risk of rip currents. There is 4′-6′ of surf. Beachside temperatures reach the upper 60s, while ocean temperatures are close to 70. It is not advised to swim in the waves.
Theme Parks
Thanks to the bright skies and lower temperatures on Friday, theme parks in Orlando will have a terrific day. Bring a jacket or sweater just in case, especially once the sun sets and the temperature starts to progressively drop. If you're going to the theme parks today, be weather-aware. Top highs will be close to 68 degrees.
Outlook
This weekend, the season's coolest air is anticipated behind the most recent front. Highs during the afternoon will be in the low to mid-60s, and overnight lows will be in the 40s. On Saturday, there is a risk of rain again.
Keep up with Florida Insider as we keep track of the most recent model runs.
Are you interested in Florida's weather? For stories like this and much more: Florida Insider is dedicated to educating, entertaining and informing its readers about everything Florida. Easy to read content at the palm of your hands and covering the stories that matter.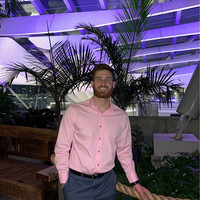 William is a South Florida native with professional experience writing at the collegiate and national news outlet level. He loves fishing, playing soccer and watching sports in his spare time and is a fan of all South Florida teams.