Indoor Boat Show Courtesy: Shutterstock – Photo by Aija Lehtonen
"Made by Floridians, For Floridians" is their motto, and two Miami natives are hoping to inspire a new series of boat shows in the Sunshine State with "The Florida Boat Show."
Thousands of people from all over the world tend to come to Florida during the fall and winter months to enjoy boat shows and events given the year-round climate. But because of the pandemic, some events were halted to mitigate the spread of the virus. Miamians Mauricio Urbina and Osniel Sanchez sought out to create The Florida Boat Show to extend a supporting hand to the boating community in the state.
In late October, South Florida held its first significant event to be staged during the pandemic despite other major event cancelations throughout the year via the Fort Lauderdale International Boat Show. The event was considered a success by many thanks to the wider walkways, reduced capacity, and mandatory mask mandate.
The Florida Boat Show will seemingly emulate the latter boat show, and Urbina assures that "all safety precautions" will be taken, including but not limited to: mandatory mask requirements, hand sanitizing stations, temperature checks upon entry, and limited capacity in exhibitor spaces.
Big names such as Mako, Sea Hunt, Everglades, Suzuki, Mercury, Yamaha, Simrad, Garmin, and more will show off their products at the show, which was uniquely curated by Urbina and Sanchez so that consumers and manufacturers could mutually benefit from the display.
According to a press release by the National Marine Manufacturers Association (NMMA) — the 2020 pandemic "heightened" the interest in outdoor recreation activities, causing a 12 percent spike in sales for powerboats and watercraft when compared to 2019. It was estimated that over 300,000 new powerboats were sold in 2020 alone, reaching pre-2008 Great Recession figures.
"2020 was an extraordinary year for new powerboat sales as more Americans took to the water to escape pandemic stress and enjoy the outdoors safely," said NMMA President Frank Hugelmeyer. "For the first time in more than a decade, we saw an increase in first-time boat buyers, who helped spur growth of versatile, smaller boats – less than 26 feet – that are often towed to local waterways and provide a variety of boating experiences, from fishing to watersports."
This momentum bodes well for the boating industry in 2021 and shows such as the upcoming Florida Boat Show.
Hugelmeyer added that he believes consumer interest will continue through 2021 and beyond because people have discovered the importance of mental health and the escape of the outdoors and boating provides them.
The first of its kind Florida Boat Show will hold its first show ever at the Miami-Dade Fair & Expo Center at 10901 SW 24th St. Miami, Florida 33165 on Thursday, Jan.15, 2021 – Sunday, Jan. 17, 2021.
Miami is the first stop in what will be a series of exhibitions throughout the state, so do not fear. If you can't make it to Miami, stay tuned, and they may be coming to you.
Tickets for the event can be purchased here.
To learn more about The Florida Boat Show, visit their website at https://www.thefloridaboatshows.com/.
Are you interested in Florida business? For stories like this and much more: Florida Insider is dedicated to educating, entertaining, and informing its readers about everything Florida. Easy to read content at the palm of your hands and covering the stories that matter.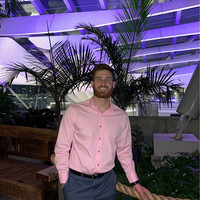 William is a South Florida native with professional experience writing at the collegiate and national news outlet level. He loves fishing, playing soccer and watching sports in his spare time and is a fan of all South Florida teams.