Flooding Hurricane Ian in Central Florida — Courtesy: Shutterstock — america365
Hundreds of Central Florida homes are still submerged in floodwater as the St. John's, a famous lazy river on the east side of the peninsula, slowly drains the rainfall that Hurricane Ian historically dropped nearly two weeks ago.
Forecasts show the river will remain at a higher level than it has ever been in nearly 60 years throughout the next week. The National Weather Service warns that water may stay above flood stage throughout Thanksgiving.
Northeast of Orlando in Seminole County, over 400 homes are "inaccessible" due to severe flooding, according to county planning manager Steven Lerner. The city of Geneva, which is hidden within a bend in the river and two lakes, is particularly flooded.
"This area historically floods, and many residents stick it out in their homes," Lerner told CNN in a phone interview. Lerner was unsure of how many residents have already left due to the flooding.
Before emptying into the Atlantic Ocean at Jacksonville, the St. Johns River travels north through dozens of cities on the east side of the Florida Peninsula, starting southeast of Orlando.
According to Scott Kelly, a forecaster at the National Weather Service in Melbourne, the river flows over 300 miles yet barely dips by about 30 feet, making it one of the slowest in the world.
"It is a very, very lazy river," Kelly told CNN. "Very slow moving."
Kelly believes the flooding could last for "perhaps a couple of months," and officials expect this slow-moving natural disaster to move up north over the next few weeks.
The water in Geneva "will eventually move to the Astor area," Lerner said. "It's a very slow trickle process."
On the west bank of the river, just south of Lake George, is the unincorporated community of Astor, which is part of Lake County. According to Lerner, water generally flows from Geneva to Astor with a two-week delay; hence, they should quickly see an increase in the water level.
Drone footage, however, reveals that homes and businesses in DeLand, between Geneva and Astor, have already been overwhelmed by dark brown water that has overflowed the river's banks.
"Geneva… DeLand and Astor have all seen record flooding with this event," Kelly told CNN. "So this is not something anyone has seen at least in the last 70 years."
Nearly two weeks ago, Hurricane Ian dumped up to 20 inches of rain on this region of Central Florida, an enormous amount of rain that is becoming more typical as the world warms. Warmer air can store more moisture, according to scientific research, which causes hurricanes to deliver more intense rainfall.
Scientists at Stony Brook University and the Lawrence Berkeley National Laboratory conducted a fast investigation and found that Ian's rainfall was at least 10 percent higher as a result of human-caused climate change.
Make sure you are staying up-to-date with the latest and most important Florida news with Florida Insider. Whether you are interested in business, education, government, history, sports, real estate, nature, weather, or travel: we have something for everyone. Follow along for the best stories in the Sunshine State.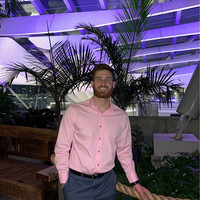 William is a South Florida native with professional experience writing at the collegiate and national news outlet level. He loves fishing, playing soccer and watching sports in his spare time and is a fan of all South Florida teams.