The Grove XXIII Clubhouse Entrance – Courtesy: NBWW
Michael Jordan is known for his illustrious professional basketball career and is regarded by many as the greatest ever to grace the court. A six-time NBA Champion, five-time Most Valuable Player Award recipient, 14x NBA All-Star selections, and much more, it's no secret as to why MJ is considered the "GOAT."
But basketball aside, Jordan is known for more than just his athletic accomplishments. He is a savvy businessman, entrepreneur, and avid golf lover, which brings us to the topic of his Florida-based, exclusive, and state-of-the-art golf club, The Grove XXIII.
The name is a nod to Jordan's infamous number 23 with the Chicago Bulls (for most of his career) in Roman numerals. Jordan's golf club features a private 18-hole golf course, a practice range and learning facility, a gatehouse, and a jaw-dropping 15,000 square foot clubhouse with full men's and women's locker rooms, lounge areas, and a golf shop.
The Grove XXIII officially opened its doors in late 2019 near Hobe Sound, FL, but odds are you'll never get to play on it… no matter how much you tried to pay.
With less than 100 members, gaining access to the NBA legend's club is quite literally impossible, even for the "elites" of the world. To become a member of the uber-exclusive club, one must be invited before gaining access to the links and amenities The Grove XXIII has to offer. According to an interview on The Dan Patrick Show, professional golfer and friend of Michael Jordan, Phil Mickelson, was "in the process" of joining the club back in May 2020.
"Fortunately, I know a number of members there. My wife and I just bought a lot fairly close to there, it's only about 10-15 minutes away, so it will be a great place to play and practice."

– Phil Mickelson
But not everyone is as fortunate as Phil, who has won 44-PGA Tour events and is a three-time Masters winner throughout his lengthy career.
As for the course—it features a double-helix routing, meaning it can be played in more ways than one. Golfers can choose to play the course in four nine-hole combinations or three- to six-hole loops, per Golf Digest. The course was designed by Bobby Weed Golf Design out of Florida. And according to that same exclusive look into the course by Golf Digest, when tasked with creating the course, Jordan's primary request was for the course to "play fast and firm with features that produce dramatic matches."
The high-tech clubhouse was designed by South Florida-based NBWW architects, and the inspiration behind the design concept of the main clubhouse is emblematic of the swing of a golf club.
"We wanted the precision and flow of the golf swing as well as Michael's athleticism and corporate finesse to inspire the contemporary form and detailing of the Clubhouse architecture," said Don Wolfe, principal at NBWW on the company's website.
Michael Jordan and his team awarded the project to the firm after judging a design competition.
But the innovation doesn't stop there because technology extends beyond the clubhouse. Video has surfaced showing the golf course uses a drone operated service that brings members snacks and beverages throughout their progress on the course.
https://www.instagram.com/p/CIn64XbJuT-/?utm_source=ig_embed
While it is likely that you will never get to set foot on the golf course, it sure is cool to see how worlds collide, and passions lead the way for exciting innovation in our home state of Florida.
Jordan is no stranger to the Florida scene. Michael Jordan has been living in his $12.4 million Bears Club, Florida home for just over a decade now and has always shown a deep passion for the sport. With the golf course sitting just north of his Florida home, he'll have access to his own private course forever and not have to worry about sharing with uninvited guests. And thanks to him, Florida's golf scene is getting better and better by the day.
Are you interested in Florida sports? For stories like this and much more: Florida Insider is dedicated to educating, entertaining, and informing its readers about everything Florida. Easy to read content at the palm of your hands and covering the stories that matter.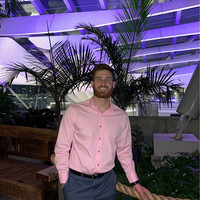 William is a South Florida native with professional experience writing at the collegiate and national news outlet level. He loves fishing, playing soccer and watching sports in his spare time and is a fan of all South Florida teams.