Courtesy: Image by jorono from Pixabay
"We've got to do a better job of keeping our poise. That starts with me. I've got to do a better job of keeping my poise," said Dolphins head coach Brian Flores, via the team's official post-game transcript. "But, look, I'm going to stick up for my players. They're going to stick up for each other without getting penalties, without hurting the team, but we've got to do a better job of keeping our poise as a team."
The comments came after a chippy 19-7 win at Hard Rock Stadium, Sunday afternoon against the visiting Cincinnati Bengals.
A rare sideline-clearing brawl ensued after Dolphins punt returner Jakeem Grant took a brutal hit from Bengals wide receiver Mike Thomas on a second consecutive punt early in the fourth quarter.
"The people in this organization, they're very important to me. I'm going to try to protect everyone here," Flores continued.
After laying on the ground for a few moments after the hit, the team's sidelines went at it, fists flying, shoving all around, and coaches hitting the ground. Among the coaches involved in the scuffle was Flores. Visibly and rightfully enraged, the Dolphins head coach charged the opposing sideline and had to be restrained by his players while giving referees an earful behind his mask.
"I think it speaks a lot to Flo's character – how much it means to him that, you know, his player got hit, and it wasn't the first time. It was the second time," added rookie quarterback Tua Tagovailoa.
Both sidelines clearing for a brawl is something that is rarely seen in the NFL and is far more common in baseball. As a result, three ejections were handed out, including Dolphins receivers DeVante Parker and Mack Hollins, and Bengals safety Shawn Williams.
As for the receiver that laid out Grant, he was let go scot-free. Two brutal and illegal hits on the punt returner and no expulsion from the game.
The brawl created a game-pause of roughly 10 minutes, which felt like hours if you were watching. But, a silver lining came as a result of the brawl, a burning fire from the Dolphins.
Miami's defense went on to force two more punts throughout the game, snagged a second interception, and a couple of crucial defensive stops that were rare before the second half, en route to a 12-point win.
After a poor first-half performance, the Dolphins came out firing in the second half and scored 13 of their 19 points in the half to seal out the Bengals. QB Tua Tagovailoa threw for a career-high 296 yards, one touchdown, and remains "interceptionless" on the season.
Miami is currently holding on to one of the at-large wild card spots in the playoffs with an 8-4 record and is trailing division rival Buffalo Bills by one game for the division lead. Next week the Dolphins will meet the defending Super Bowl champion Kansas City Chiefs at Hard Rock Stadium for a 1 P.M. EST showdown.
Are you interested in Florida sports? For stories like this and much more: Florida Insider is dedicated to educating, entertaining and informing its readers about everything Florida. Easy to read content at the palm of your hands and covering the stories that matter.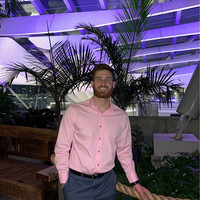 William is a South Florida native with professional experience writing at the collegiate and national news outlet level. He loves fishing, playing soccer and watching sports in his spare time and is a fan of all South Florida teams.