First Thanksgiving depiction—Courtesy: State Archives of Florida/Florida Memory
Leave it to Florida to somehow be connected to everything.
For years, it has been thought and taught in many schools that the first Thanksgiving gathering and feast was held between the Pilgrims and resident Indian Wampanoag tribe of New England at Plymouth Rock in 1621.
Some 38 miles south of present-day Boston, a three-day feast and gathering that celebrated a year of successful harvest was held at the famed and "believed-to-be" site of the first feast we recognize as Thanksgiving.
But, many historians have argued that Florida, not Massachusetts, lays rightful claim to the throne as the birthplace of the fall feast.
Lets review the theory with some fast facts.
Historical documentation and textual records lead historians to believe that Florida was discovered and settled by Spanish explorer Juan Ponce de León in 1513.
In 1565, Pedro Menendez de Aviles founded the city of St. Augustine at the Timucua village of Seloy, the oldest city in America.
Massachusetts was first settled by the Pilgrims in 1620. Although sailed by before then, had no established colony until Plymouth Colony in 1620.
That's pretty much all you need to know to connect the dots, but we will provide further context as to why Florida is most likely the origin of Thanksgiving.
After St. Augustine was founded and claimed by the Spanish, Father Francisco Lopez, the fleet's captain, performed a Catholic mass of thanksgiving to say grace for their safe arrival and founding of new land. The ceremony was held around an altar with the estimated 800 new colonists aboard the fleet and the Timucua tribe looking on.
No invite?
Not so fast. Menedez then extended an invitation to the tribe, and they all enjoyed the celebratory meal on September 8, 1565
University of Florida professor emeritus of history Michael Gannon wrote in his book "The Cross in the Sand" that this communal gathering was the first of what we now celebrate every fourth Thursday of November. "It was the first community act of religion and thanksgiving in the first permanent settlement in the land."
On the menu were—leftovers. Because colonists didn't have fresh produce grown from the soil as the Pilgrims did, they likely used whatever was leftover from their voyage across the Atlantic. According to Robyn Gioia, author of "America's REAL First Thanksgiving," the European colonists likely ate hard biscuits and 'cocido'—a rich garbanzo stew made with pork, garlic, saffron, cabbage, and onion, accompanied with red wine to wash it all down.
Other historians believe that a similar gathering occurred a year before at Fort Caroline, roughly 40 miles north of St. Augustine along the St. John's River in present-day Jacksonville by the Timucuans and French Huguenots. "We sang a psalm of Thanksgiving unto God, beseeching him that it would please his Grace to continue his accustomed goodness toward us," wrote French explorer Rene Goulaine de Laudonnière in his journal.
Whether it happened in 1564 or 1565, the main factor remains—the origin is Florida. 
Many gatherings have been recorded throughout history, but it's not so easy to pinpoint which happened first. But this evidence is quite convincing and definitely is backed by settlement dates as stated above.
How could Plymouth Rock lay claim to the first Thanksgiving when Florida was settled over 100 years before, and historical accounts describe in print that such gatherings occurred over 50 years before? 
Either way, Thanksgiving is around the corner and you can thank whoever you'd like to thank for the idea of reuniting with loved ones, friends, and—food.
Are you interested in Florida history? For stories like this and much more: Florida Insider is dedicated to educating, entertaining, and informing its readers about everything Florida. Easy to read content at the palm of your hands and covering the stories that matter.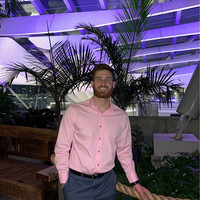 William is a South Florida native with professional experience writing at the collegiate and national news outlet level. He loves fishing, playing soccer and watching sports in his spare time and is a fan of all South Florida teams.