Courtesy: Shutterstock/ Andy Chipus
Below, we at Florida Insider have compiled a quick list of things that are frowned upon and accepted at Florida polling precincts. The list below are the most commonly asked questions every election year. Please be sure to vote responsibly and fully review your voter rights before visiting the polls by clicking here.
What you can do (legal stuff aka you're in the clear)
Take a selfie with your ballot. Florida law states that voters are allowed to take a selfie with their blank or filled out ballot at the polling precinct or at home if they are voting via mail-in ballot. Voters who choose to take a photo of their ballot must do so within the confines of their voting booth and are not allowed to do so in any other area.
Wear candidate memorabilia. Regardless of who you vote for, candidate memorabilia is allowed to be worn at precincts.
Take a cheat sheet. Yes, voters are allowed to bring a "cheat sheet" or pre-filled ballot with them to the voting booth. If you have a ballot that was filled out before entering the precinct, you may use that ballot to transfer over the answers in the event you forgot who or what you were voting for.
Ask for a new ballot. If you make a mistake on your ballot for whatever reason, you are allowed to request another ballot, and your previous ballot will be shredded to avoid a double-vote. P.S. just avoid having to mess up more than once so that you don't hold up the lines.
What you cannot do (illegal stuff aka a no-no and potential to get kicked out)
Take a picture of someone else voting or their ballot. Yes, that goes for family and friends too. It is their right to reveal who they voted for if they choose to do so. Just because you wanted to take a selfie with your ballot does not mean you can show off theirs. Conversely, if you choose to take a picture of your ballot as stated before, it may only be done in your booth. For clarity: booth selfie, yes; anywhere else on polling floor, no. Also, if you were to bump into a famous person or athlete, you cannot ask to take a picture with them or sneak one either from your booth. That is illegal. No need for further explanation. Next.
Campaigning, selling of items, or asking to sign a petition is not allowed. So no, you cannot shout in the middle of the polling site as to why someone should vote for who you are voting for or force someone to do so. Also, you are not allowed to distribute fliers or handouts to others.
Soliciting of any kind in the polling precinct or within a 150-foot radius of the polling precinct entrance. This is highlighted in Chapter 102, Section 102.031 Subsection 4(a).
Passing out a list of suggestions or blatantly showing the world your ballot in the precinct and encouraging a vote for your candidate. Need we say more?
Gray area (not specified if legal or illegal)
Posting your filled ballot online. While there is no specific law in Florida that prohibits the posting of your ballot selfie online, save yourself the headache of having friends call you out if your political beliefs are not aligned. Instead, take a picture of the "I Voted" sticker you receive after casting your ballot.
Talking on the phone to assist someone with their ballot. While there is no express yes or no answer to this question, we suggest not to use it when voting. The general law is not to use a phone for conversation when polling because it is a distraction for others. Therefore, you may get kicked out if you do. However, you may use your phone as a cheat sheet if you need help remembering how you filled out a pre-ballot.
While the specific penalties of committing a violation at a polling site are not exact, we suggest it's best not to find out what they are.
Are you interested in Florida government? For stories like this and much more: Florida Insider is dedicated to educating, entertaining, and informing its readers about everything Florida. Easy to read content at the palm of your hands and covering the stories that matter.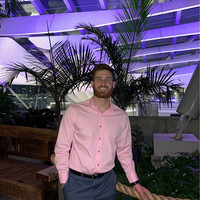 William is a South Florida native with professional experience writing at the collegiate and national news outlet level. He loves fishing, playing soccer and watching sports in his spare time and is a fan of all South Florida teams.