Red Tide algae bloom in the ocean – Courtesy: Shutterstock – Image by Alfred Rowan
It's back and smellier than ever.
Dead fish are washing up along southwest Florida beaches bringing up major concerns for scientists, residents, and tourists along the Gulf Coast waters.
As defined by the National Oceanic and Atmospheric Administration, Red Tide is a toxic algae bloom phenomenon that commonly occurs along Florida's Gulf Coast nearly every summer, posing significant threats to marine wildlife, humans, and birds that can cause life-threatening illnesses. The algae bloom in small quantities poses little threat to humans, but problems arise when blooms begin to spread out of control and release excess levels of toxins into the air we breathe and the food we eat.
While not all algae are harmful, small percentages can produce powerful toxins that bunch up and spread long coastal shorelines that can turn surrounding bodies of water red, depleting oxygen levels in the water and spewing foul and corrosive odors along the shore.
Recently, tourists have been noticing dead fish along the Naples shoreline, as red tide has crept its way back to Florida's Gulf Coast over the past few months, just in time to spoil Florida's desirable summer month climate.
Last week, the U.S. Army Corps of Engineers made plans to "cut back" on discharges from the state's largest lake— Lake Okeechobee. The decision comes at a pivotal time, ending months of pollution-filled discharges to the St. Lucie Estuary in southeast Florida and returning to more conventional releases down the Gulf Coast via the Caloosahatchee River system.
Florida's record-breaking rain season in 2020 brought unprecedented high-levels of freshwater to the Lake Okeechobee system and forced the U.S. Army Corps of Engineering to dump excess lake water, which carries farm and urban sediments to surrounding bodies of water. The dumping began in October and has been releasing high amounts of nitrogen and phosphorus, conducive to heightened algae bloom growth.
"We're seeing massive fish mortality right now. And I got a bad feeling marine mammals and sea turtles are not far behind," said John Cassani, director of Calusa Waterkeeper in Fort Myers. "It's just an awful, awful situation on the heels of a historic red tide event just two years ago. All these communities are trying to recover, and it's just creating insult after insult to these ecosystems."
According to Cassani, the polluted runoff was practically double near the mouth of the Caloosahatchee, a highly affected region.
"Almost every year, 2016, 2017, 2018, and again in 2020, we're having these unanticipated high extreme rainfall events that have generated the need for the Corps to release excessive volumes of lake water, which are heavily polluted. There hasn't been a good length of time for either the near-coastal communities or the estuary to actually recover," Cassani added.
Cassani is referring to some of the worst red tide outbreaks in Florida's history that coated the Gulf shores with rotten fish and toxic breathing conditions that didn't dissipate until 2019. 2018 and 2018 were the two worst years, causing drastic drops in tourism for the region's beaches.
The blooms were first spotted by the Florida Fish and Wildlife Conservation Commission in December, but as Mother Nature takes its course, winds and currents have slowly washed the toxic tide onto Florida's coastline.
Lee and Collier counties have reported respiratory irritation cases with the highest concentration of cases coming from Marco Island to Cape Coral.
So far, no signs of red tide have been spotted in northwest Florida and the east coast by FWC.
Stories that matter are our priority. At Florida Insider, we make sure that the information we provide our readers is accurate, easy-to-read, and informative. Whether you are interested in business, education, government, history, sports, real estate, nature, or travel: we have something for everyone. Follow along for the best stories in the Sunshine State.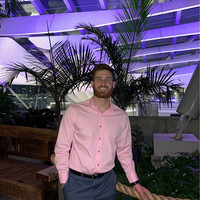 William is a South Florida native with professional experience writing at the collegiate and national news outlet level. He loves fishing, playing soccer and watching sports in his spare time and is a fan of all South Florida teams.