Courtesy: Shutterstock by Matt Smith
President Donald Trump will be visiting the famed "I-4 Corridor" on Monday evening in an attempt to rally his Florida support base. Conversely, his opponent, Joe Biden will continue his Florida campaign tour with a visit to Broward County on Tuesday.
The visit to Florida will mark the beginning of the final stretch on the campaign trail for both candidates as the election is just 22 days away on Nov. 3.
The president's visit will be his first official campaign event outside of the nation's capital since he was diagnosed with COVID-19 just 10 days ago.
Trump is expected to speak in Sanford, just a short 30-minute drive north of Orlando in a crucial piece of the state.
The "I-4 Corridor" as it's known, is home to a key intersection between six Central Florida counties—Hillsborough, Osceola, Orange, Polk, Seminole, and Volusia county.
The voter demographic of the six counties are historically a strong indication of the winning candidate.
In the 2016 election, the six counties were split between Trump and Hillary Clinton, with Trump ultimately winning the state by less than two percentage points.
Many are questioning the visit to Florida given the uncertainty behind the health of the president following his diagnosis. But, he has assured he is healthy and ready to continue on the trail.
With his visit to Seminole county, Trump will be looking to gain the support of his base and reignite similar voter numbers to that of four-years ago. The county has recently been swinging to the left, most recently having voted for Andrew Gillum in the 2018 governor race.
Joe Biden on the other hand will be visiting Broward County on Tuesday to continue boosting the Democratic-voting trend in the area. The Florida visit will be his second within the last week, as he appeared in a town hall in Miami last Monday.
A major topic expected to be touched upon is that of the economy. Florida has been one of the hardest hit states economically since the pandemic forced nationwide closures for travel and small-businesses, two major sources of income for the state. As of recent, Florida did have a decrease in Covid cases, however, since the reopening of the state, numbers have been slightly on the rise.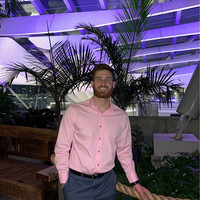 William is a South Florida native with professional experience writing at the collegiate and national news outlet level. He loves fishing, playing soccer and watching sports in his spare time and is a fan of all South Florida teams.