Phone footage of Spring Break craze – Courtesy: WPLG Miami
South Florida has been welcoming spring breakers from all over the country for the last two weeks and will continue for at least another week or so. But just as everyone wants to come down to Florida's beaches to have fun in one of the most open states in the U.S., some city officials and residents throughout the state are tired of the breakers' unruliness bring with them.
One destination in particular is Miami Beach.
Known for its luxurious hotels, white sandy beaches, and vibrant nightlife, it's no secret why it is one of the most visited Spring Break destinations in the world every year.
However, with the popularity comes large crowds and larger responsibilities for the host city. And while the business that is brought to the city and state is welcomed, especially during a pandemic where finances are scarce, the chaos that comes with it is intolerable.
"The entertainment district is simply not working for us as it has become an anything-goes place. We need to end it and replace it with a true Art Deco cultural district," said Miami Beach Mayor Dan Gelber at a city address earlier this week. "The entertainment district must go. The time for baby steps is long past. It's time to demand change for truly reimagining south beach as the cultural and historic district it needs to be."
The plead to bring change to the entertainment district that is famously associated with Deco Drive and mighty popular South Beach attractions come after a weekend of sheer havoc on the streets on Miami Beach that resulted in over 100 spring breaker arrests.
Images and video from city residents and officials posted online show the scene of maskless patrons taking to the streets in large crowds and holding up traffic, mounting and dancing on cars, and damaging city property.
According to CBS Miami, Miami Beach police have made close to 900 arrests and seized 78 firearms since Feb. 3 of this year. The city of Miami Beach has a zero-tolerance policy that is heavily being enforced during the pandemic. Still, despite the heavier police presence during the spring break rush, city officials and residents believe the chaos is ruining its reputation.
"We've seen madness and criminality gone awry. So the message is, 'Come to Miami Beach, mess up, violate the law, and you're going to get arrested,'" Vice Mayor Michael Gongora warned.
Miami Beach Chief of Police Richard Clements has said he is not afraid to shut down the MacArthur Causeway if the beach scene got too crazy. The popular extension into South Beach would virtually gridlock the city and force people out through a very long and scenic alternative.
While the mayor's plan to reform the district has no fine details just yet, it's a start that many residents are encouraging.
"We have amazing art. We have amazing architecture. We have amazing beaches. And we have a very active populous that loves to work out and exercise and feel good," said Miami Beach resident and chair of nonprofit organization Miami Beach United Raquel Pacheco. "And in my personal opinion, there's a lot of money in that. It's a big industry. So I would like to see more of a focus towards that."
Pacheco feels like she has to make an effort to avoid the populated area when the sun goes down and is saddened by the reputation the world has given the city, particularly because of the spring break antics.
Changes to the city are not finalized but can be expected soon, especially if the spring break craze continues to roar through the coming weeks.
Stories that matter are our priority. At Florida Insider, we make sure that the information we provide our readers is accurate, easy-to-read, and informative. Whether you are interested in business, education, government, history, sports, real estate, nature, or travel: we have something for everyone. Follow along for the best stories in the Sunshine State.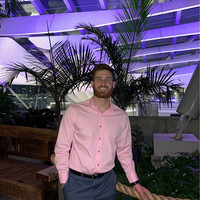 William is a South Florida native with professional experience writing at the collegiate and national news outlet level. He loves fishing, playing soccer and watching sports in his spare time and is a fan of all South Florida teams.