Courtesy: Shutterstock – Image by Twin Design
In an aggressive stance against social media user regulation, Florida became the first state to pass a bill that moderates how social media companies such as Facebook and Twitter control online speech.
Moving forward, Florida's idea with this bill is to protect political candidate's right to freedom of speech "against Silicon Valley elites."
SB 7072, labeled "Social Media Platforms," was signed into law Monday morning by Gov. Ron DeSantis at Florida International University.
Surrounded by other Florida politicians and House members, DeSantis signed the bill, which was largely inspired by Facebook and Twitter's bans against Florida resident and former President Donald J. Trump in the aftermath of the Jan. 6 attack on the Capitol.
The bill will focus on fining social media companies that moderate online speech and de-platform political candidates in the state.
"If Big Tech censors enforce rules inconsistently, to discriminate in favor of the dominant Silicon Valley ideology, they will now be held accountable," DeSantis said in a statement.
According to the National Conference of State Legislatures, hundreds of bills similarly targeting social media companies' online restrictions have been filed throughout the country following the Jan. 6 Capitol attack, most of which have failed to come to fruition.
The law forbids social media platforms from de-platforming a political candidate for more than 14 days and authorizes the Department of Legal Affairs to investigate potential violations under the Deceptive and Unfair Trade Practices Act.
Additionally, companies would be fined up to $250,000 per day for any de-platforming of a Florida political candidate running for statewide office positions and a lesser $25,000 for non-statewide office candidates.
"Today, these big tech monopolies are exerting way more influence over our society than the monopolies of the earliest 20th century, which led to antitrust and a lot of trust-busting," DeSantis added. "We're in a situation here where these platforms have become our public square. Floridians and other Americans go on these platforms to be able to share ideas. Heck, you go back to the beginning of these platforms (and) they actually were very liberating because you had corporate media, those legacy outlets that many Americans grew to distrust, and rightfully so, they no longer had the monopoly on information."
The bill was not passed unanimously and faced a significant amount of heat on the way to its passing, namely by libertarian groups and tech companies who feel it violates the companies' First Amendment rights to decide how they can run their own platforms.
Make sure you are staying up-to-date with the latest and most important Florida news with Florida Insider. Whether you are interested in business, education, government, history, sports, real estate, nature, weather, or travel: we have something for everyone. Follow along for the best stories in the Sunshine State.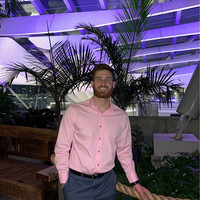 William is a South Florida native with professional experience writing at the collegiate and national news outlet level. He loves fishing, playing soccer and watching sports in his spare time and is a fan of all South Florida teams.