Courtesy: Image by pasja1000 from Pixabay
Have you noticed the sun creeping through your window earlier as the days go by? That's because Daylight Savings is coming to its seasonal end.
Daylight Saving Time (DST) will come to an end this season on Sunday, Nov 1., at 2 a.m.
For Floridians and many others, this means an extra hour of sleep this weekend.
While Florida will not quite literally 'fall back' it signifies a pivotal change in our clocks. And although this change is celebrated by many, others seek to extend it permanently.
Daylight Saving Time is in effect for roughly 65 percent of the year—or 238 days, according to the United States Department of Commerce.
But there are two states in the country as well as a few U.S. territories that do not change their clocks, ever. Arizona (with the exception of the Navajo Indian Reservation) and Hawaii do not observe DST and have not done so for many years.
For years, experts have argued that extending daylight hours would conserve power in homes and lower crime because there is more time with daylight, which lessens the need for light-time in the house, and crime percentages drop significantly during the day time.
Attempts to make changes have been made. In Florida, U.S. Senators Marco Rubio and Rick Scott introduced legislation earlier this year suggesting the United States to stay in DST through Nov 7., 2021, to allow an extra year of stability for families who were sidetracked by the COVID-19 pandemic.
"Our government has asked a lot of the American people over the past seven months, and keeping the nation on Daylight Saving Time is just one small step we can take to help ease the burden. More daylight in the after school hours is critical to helping families and children endure this challenging school year. Studies have shown many benefits of a year-round Daylight Saving Time, and while I believe we should make it permanent all year-round, I urge my colleagues to — at the very least — work with me to avoid changing the clocks this fall," said Senator Rubio.
Along with the legislation, the senators also outlined benefits of the extension that included reductions in energy expenditure, robberies, cardiac-related issues and seasonal depression due to more light hours in a day, and more.
Per the release, "In March 2019, Senator Rubio re-introduced the Sunshine Protection Act, legislation that would make DST permanent across the country. The bill reflects the Florida legislature's 2018 enactment of year-round DST; however, for Florida's change to apply, a change in the federal statute is required. 11 other states —Delaware, Louisiana, Maine, Oregon, South Carolina, Tennessee, Utah, Washington, Arkansas, Alabama, and Wyoming — have passed similar laws, and dozens more are looking. In 2018, California voters overwhelmingly passed a proposition to authorize the state legislature to move to permanent DST."
DST start and end dates have been extended twice since it became law in 1966, leaving us with the current eight-month span.
And while states have the option to opt-out of the practice and stick with one time throughout the year, making daylight saving time a year-round fixture is not allowed by federal law, according to the National Conference of State Legislatures. It would require action from Congress to make any alteration to the law.
Don't forget to change your non-automatic clocks manually, so you avoid oversleeping on Monday morning.
Floridians can expect sunrise around 6:37 a.m. and sunset around 5:39 p.m.
Daylight Saving Time will begin again on Sunday, March 14, 2021 at 2 a.m.
For a full list of DST rules, click here.
Are you interested in Florida government? For stories like this and much more: Florida Insider is dedicated to educating, entertaining, and informing its readers about everything Florida. Easy to read content at the palm of your hands and covering the stories that matter.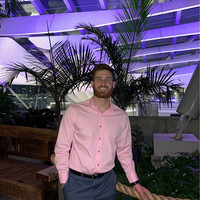 William is a South Florida native with professional experience writing at the collegiate and national news outlet level. He loves fishing, playing soccer and watching sports in his spare time and is a fan of all South Florida teams.