Courtesy: Al Diaz/Miami Herald
Florida's second-largest school district has reached an agreement to send off county superintendent Robert Runcie with a handsome payday if his perjury charge is successfully fought off in court.
On Wednesday, April 21, Runcie was arrested on a charge of perjury along with another Broward County board member and the county's top staff lawyer Barbara J. Myrick for lying under oath while testifying to a state grand jury.
Earlier this week, the Broward County School Board voted 5-4 in favor of sending off the soon-to-be ex-superintendent of the county with a severance deal totaling almost $750,000.
Breakdown of the Deal
The deal was broken down as follows:
90 days paid salary
20 weeks' severance
Accrued Sick and Vacation time
Medical and Dental Benefits
Maximum $25,000 in legal fees for exit negotiations
$80,000 for state retirement pension
The deal also includes the district paying for the legal fees connected to the criminal case; however, it must be paid back in full if he is unable to prove his innocence.
The perjury charge was regarding a sworn testimony in front of a state grand jury regarding the 2018 tragedy at Marjory Stoneman Douglas High School. Runcie is accused of lying to the jury in regards to how the district was spending money on safety issues and protocols.
Many parents, though, are unhappy with the terms agreed to by the county board, with most citing the package was too expensive.
Broward County School Board member and teacher Sarah Leonardi said, "I talk to teachers, and it would take a lot of years to earn that much money. They were taken aback."
But the county backed the deal by saying certain expenses such as benefits have an obligation to be paid out by health care providers and other agencies.
"It was important to me that what we bring forward is fair to Mr. Runcie; it protects the school board as well as bring the community to a place we can move forward," said lead negotiator and board chair Dr. Rosalind Osgood.
Runcie has been the superintendent for the Broward County School System for almost a decade and has played an important role in handling the sixth-largest school district in the nation. His last day with the district is set for August 10, 2021.
Are you interested in Florida education? For stories like this and much more: Florida Insider is dedicated to educating, entertaining and informing its readers about everything Florida. Easy to read content at the palm of your hands and covering the stories that matter.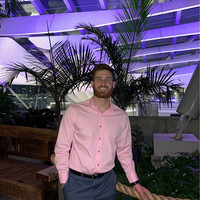 William is a South Florida native with professional experience writing at the collegiate and national news outlet level. He loves fishing, playing soccer and watching sports in his spare time and is a fan of all South Florida teams.