Pie Eating Contest at Key Lime Festival in Key West – Courtesy: Key Lime Festival – Photo by Filda Konec Photography
On July 4, 1776, the United States of America entered nationhood after declaring its independence from Great Britain via the signing and approval of the Declaration of Independence.
Celebrations were had, and festivals were abundant, but little did our founding fathers know that 245 years later, people from all over the country would anxiously be waiting to see random strangers stuff their faces into a key lime pie for ultimate bragging rights.
Yes, it's back, and it will be better than ever. The annual Key Lime Festival will go on this year after a one-year hiatus due to the COVID-19 pandemic.
The 2020 Festival was moved to July 1 through July 5, 2021, and will feature a lot of the same fun festivities and the signature event—the World Famous Key Lime Pie Eating Championship.
In this event, contestants from around the country flock to feast on the Florida Keys' most iconic culinary creation—Key Lime Pie—in a race against time; contestants must compete to eat a 9-inch key lime pie with their hands tied behind their back before anyone else.
While the pie-eating contest is the star of the show, the Key Lime Festival has a long and rich history in the Florida Keys that extends farther than most realize.
According to articles published in The Miami News back in the day, the festival got its start on December 5, 1953.
The festival, originally donning the name, The Upper Keys Lime Festival, was enlisted by the Upper Keys Chamber of Commerce to "promote early tourism and prove that there are things to do in the Upper Keys besides fish, swim, relax and eat Key lime pie."
However, it wasn't until 2012, when Marky Pierson and David Sloan launched the current day version of the Key Lime Festival in Key West, that things would really take off.
The two festivals are the same but different at the same time. Some traditions remain the same, and others have been created, but "the spirit remains unchanged," says Sloan.
And now that the pandemic has slowed down in Florida, the Key Lime Festival is back and ready to put on a show for all that come to see it with an event-filled 5-day celebration.
In honor of the festival making its return, Florida Insider has put together a list of the must "attend" events for the 2021 Key Lime Festival:
Thursday, July 1st
Key Lime Kick Off!
Cookbook Signing & Champagne Reception
5-7PM
Curry Mansion, 511 Caroline St.
$10-$25
Friday, July 2nd
Key Lime Rum Tasting & Tour
11AM
Key West First Legal Rum Distillery, 105 Simonton St.
$ TBD
Key Lime Tree Master Class
4-5PM
MARC Plant Store, 1401 Seminary St.
$50
Saturday, July 3rd
Key Lime Pie Drop
11AM-2PM
Key West Lighthouse, 938 Whitehead St.
FREE
Key Lime Sip & Stroll
1:30-4:30PM
Key Lime Festival Hub: First Flight Restaurant, 301 Whitehead St.
$49
Sunday, July 4th
Key Lime Pie Hop
Tour Start Times:
• 11AM SOLD OUT
• 11:30AM
• Noon
• 12:30PM
• 1PM
• 1:30PM
Conch Republic Seafood Company, 631 Greene St.
$45
World Famous Key Lime Pie Eating Championship
12:30-3:30PM
Southernmost Beach Café, 1405 Duval St.
Doors at 12:30PM
Contest at 1:30PM
FREE to Watch / $20 to Enter
Monday, July 5th
Key Lime Pie Brunch
8AM-2PM
Breakfast Club Too, 610 Greene St.
Call to reserve your seat (305) 440-2898
*All event information is courtesy of www.keylimefestival.com *
If you're in town or want to venture somewhere for an exciting Fourth of July weekend in the Florida Keys… look no further than Key West to celebrate the state's citrus lime goodness and enjoy the fireworks nearby!
For more information on the event, visit the keylimefestival.com website.
For more stories like this, Florida Insider is your source for all things Florida. From real estate, to travel, to education, and more, we have it all. Easy to read content at the palm of your hands and covering stories that matter.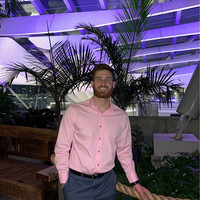 William is a South Florida native with professional experience writing at the collegiate and national news outlet level. He loves fishing, playing soccer and watching sports in his spare time and is a fan of all South Florida teams.