Courtesy: Shutterstock – photo By pisaphotography
The time has come for cruising to reopen in the United States.
After months of battling with the U.S. Centers for Disease Control and Prevention, major cruise liners will get their way and will be allowed to sail out of Florida this summer, beginning sometime around mid-July.
In a letter to cruise companies Wednesday afternoon, the CDC clearly outlined a plan that would allow cruise ships to resume sailings out of major U.S. ports, so long as 95% of travelers and 98% of ship crewmembers are vaccinated.
Oddly enough, the order gives liners a sliver of leniency when it comes to COVID-19 mitigation measures that were otherwise not afforded to the first ships that serviced travelers in other parts of the world.
As of now, cruise ships that were given the green light to operate outside of the U.S. required all passengers and crew members on board to be fully vaccinated before debarking.
The cruise ship industry has been at a standstill since last March when the pandemic closures began and have since been unable to resume sailings out of U.S. ports. In October 2020, the agency issued a conditional-sail order that required companies to apply for test sailings no later than 60 days in advance of leaving a U.S. port. Since the order was sent out, no major cruise liner has begun testing—but that will soon change.
Per the letter issued by the CDC, cruise ships can resume open-sea sailings without the test cruising certificates as long as they meet the necessary vaccination rates for travelers and cruise staff.
Vaccinated passengers will no longer have to take a PCR lab test before boarding and instead will be able to take a rapid antigen test before sailing.
"We acknowledge that cruising will never be a zero-risk activity and that the goal of the CSO's phased approach is to resume passenger operations in a way that mitigates the risk of COVID-19 transmission onboard cruise ships and across port communities," wrote Aimee Treffiletti, the head of the CDC's Maritime Unit, in the issued letter.
Experts in the industry believe that if the cruise liners comply with the conditional-sail order and conduct proper procedure to begin sailing, the first trips out of U.S. ports would begin at some point in July of this year.
Major companies such as Royal Caribbean and Norwegian Cruise Line saw increased stock movement in the market after the CDC released the news.
Also, Alaskan ports are likely to receive some travelers as part of the order, though extra steps may be required before sailings begin launching from the west coast and Canada.
Make sure you are staying up-to-date with the latest and most important Florida news with Florida Insider. Whether you are interested in business, education, government, history, sports, real estate, nature, weather, or travel: we have something for everyone. Follow along for the best stories in the Sunshine State.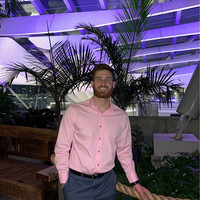 William is a South Florida native with professional experience writing at the collegiate and national news outlet level. He loves fishing, playing soccer and watching sports in his spare time and is a fan of all South Florida teams.