SpaceX Rocket Launch – Courtesy: Shutterstock — Oleg_Yakovlev
After a three-year break, SpaceX's Falcon Heavy rocket successfully launched two satellites to geostationary orbit on its second attempt in as many months at 5:56 p.m. ET, from NASA's Kennedy Space Center in Florida.
In addition to the twilight launch, which is known for creating cool vistas due to various atmospheric effects, spectators on Florida's Space Coast were also treated to a double landing of the Falcon Heavy's two side boosters back at Cape Canaveral about eight minutes after liftoff.
When the boosters landed, sonic booms echoed across the sky. The center core of the Falcon Heavy was dumped into the sea, and the two salvaged boosters will be repaired and used once again.
The enormous rocket, which is essentially three SpaceX Falcon rockets fastened together, is made to carry large payloads. Two satellites were launched by the Falcon Heavy as part of the semi-classified USSF-67 mission for the United States Space Force, which was propelled by 27 Merlin 1D engines. For this launch in 2020, SpaceX received $316 million in funding.
The launch represented the year's first national security launch. Additionally, it was Falcon Heavy's second national security space launch after the USSF-44 mission in November, marking the rocket's fifth flight overall since its first voyage in 2018.
The two satellites on board will help with technological tests and military communications.
The second Continuous Broadcast Augmenting SATCOM satellite to launch is the CBAS 2 satellite. The first took a United Launch Alliance (ULA) Atlas V rocket to space in 2018.
Due to the nature of its mission, specific information about the CBAS 2 satellite is limited, but the Space Force did reveal that it is intended to operate in geosynchronous orbit and will give the military the ability to communicate via relay.
A group of technology demonstration missions, housed in the Northrop Grumman-built Long Duration Propulsive ESPA spacecraft, are also on board. This spacecraft carries out several experiments to help lower the cost of space travel, much like a ride-sharing mission.
According to Northrop Grumman representatives, this spacecraft is carrying five distinct payloads, each with a distinct mission.
The Space System Command is funding two of the payloads: WASSAT, which is intended to look for other spacecraft or spacecraft debris in orbit, and Catcher, a prototype sensor that will offer information on local space domain awareness.
Three additional payloads from the military's Space Rapid Capabilities Office are also designed to deliver secure orbit-to-ground communications and situational awareness in space.
After a three-year break, this mission marked the second Falcon Heavy launch in just two months. According to SpaceX, this was partially due to delays in the satellites' construction, but it was also due to the Falcon Heavy's larger, heavier payloads, which less frequently require them than a standard Falcon 9 rocket.
This summer, Falcon Heavy will carry out its next mission, launching an extraterrestrial satellite to study the metal asteroid known as Psyche. Due to technical issues with the payload, that mission was also postponed till 2022.
In addition, the heavy lifter is scheduled to launch the Grace Roman telescope further out in 2026, NASA's Europa Clipper mission, and important elements of the lunar Gateway in 2024.

Like what you see? Click here for more stories about everything Florida. Florida Insider is dedicated to educating, entertaining, and informing its readers about everything in Florida. Easy to read content at the palm of your hands and covering the stories that matter.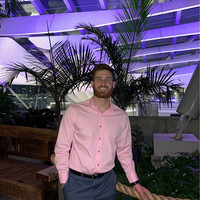 William is a South Florida native with professional experience writing at the collegiate and national news outlet level. He loves fishing, playing soccer and watching sports in his spare time and is a fan of all South Florida teams.