Welcome to Florida — Courtesy: Shutterstock —Image by: Ingo70
Cooped-up tourists who are eager for a taste of Florida's sandy beaches, warmer temperatures, and swaying palm trees are visiting the Sunshine State in masses, topping pre-pandemic levels in recent months.
Miami is one of the top search destinations on travel websites across the state, and Florida had 32.5 million travelers from July to September of this year, exceeding the number of visitors during that pre-pandemic period in 2019.
The state was boosted by the Republican governor's pro-business, anti-mask, and anti-lockdown restrictions all year long, allowing one of Florida's main economic engines to thrive, even as tourism has dropped in other parts of the country.
Now, as snowbirds have returned and others are making holiday travel plans, tourism and travel experts report a noticeable bump. Miami—and Florida as a whole—have grown even more popular since the borders were opened earlier this month to international travels, though logistics and plans could be upset by the emergence of the new COVID-19 omicron.
"The moment the borders and the flights were reopened in November, we started to see bookings from Europe and South America," said Milton Sgarbi, a vice president at 1 Hotel South Beach, one of Miami's most luxe oceanfront resorts.
"We had bachelorette parties, we had reunions, we had weddings, not as big as we used to have in the past, but small weddings almost every weekend. Last weekend, we had three weddings."
Despite the pandemic, the high-end hotel sector flourished in 2021 with leisure travel. Normally, they see a balance between leisure and business, but he expects the market will pick up in 2022, along with international tourists.
Both Miami and all of Florida have an even mix of domestic and international tourism, but with closed borders because of COVID-19 in 2021, cities launched large marketing campaigns to attract U.S. tourists who were tired of being locked up.
"Domestic tourism came back like gangbusters," said Rolando Aedo, of the Greater Miami Convention & Visitors Bureau. "We expanded our market share of domestic visitors driven partially by the fact that Florida and Miami were open when others weren't and there was a lot of pent-up demand."
While the majority of the U.S. was shut down, several new hotels opened up in Miami. For the first time, airlines including JetBlue and Southwest added Miami routes, and Aedo said the nation's cruise capital of Miami broke ground on new port terminals to cruise lines' demands, including Virgin, who recently came onboard here.
Miami is also expanding as a destination hotspot. In addition to the popular South Beach, the Wynwood art district has become a must-see destination. Wynwood officials estimate nearly 6 million visitors will have checked out the trendy area in 2021, up from roughly 5 million in 2020.
Boutique shops and chic restaurants opened all year long in Wynwood. With buildings and sidewalks covered in breathtaking technicolor murals, TripAdvisor named Wynwood one of the top hipster destinations in the U.S.
Orlando, the theme park home of Florida, is always heavily visited during tourist season. Currently, Disney's 50th-anniversary celebration is going on, and new attractions and hotels are opening soon, including the Peppa Pig Theme Park.
"The holiday season is going to be strong for our destination," said Casandra Matej, president and CEO of Visit Orlando.
Advance bookings for both Christmas and New Years in Orlando are at roughly 95% of what they were during the holidays in 2019.
"As we look ahead, bookings for January and February are triple the volume we saw at this time last year," Matej said.
Across the Sunshine State, vacation rentals through the end of the year are trending over 42% higher than in 2019, and seat capacity on domestic flights is nearly 4% higher, according to VISIT FLORIDA.
And 50 new hotels are expected to open throughout Florida by March.
Are you interested in Florida travel? For stories like this and much more: Florida Insider is dedicated to educating, entertaining and informing its readers about everything Florida. Easy to read content at the palm of your hands and covering the stories that matter.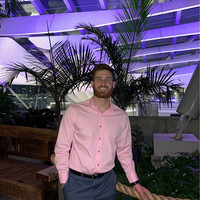 William is a South Florida native with professional experience writing at the collegiate and national news outlet level. He loves fishing, playing soccer and watching sports in his spare time and is a fan of all South Florida teams.