Courtesy: Thales' Website
Florida residents will soon have access to a mobile version of their FDL.
Thales, a French-based global technology company, reached an agreement with the Florida Department of Highway Safety and Motor Vehicles that will allow drivers of the state to carry a digital copy of their driver's license via smartphones and tablets.
Terry L. Rhodes, Executive Director of the Florida Department of Highway Safety and Motor Vehicles had this to say about the partnership, "I'm excited for this innovation project that will make the state of Florida a national leader in offering secure and trusted mobile identification, which is a priority for our Governor, Ron DeSantis."
According to Thales' press release, the mobile driver's license will carry the same validity as the physical copy drivers currently use, ultimately serving as a primary ID that may be used for identity verification and proof of age and driving privileges.
Aside from serving the traditional purposes of current ID's, the new mobile version will provide strong authentication for a variety of online services.
The mobile version will allow for convenient, contact-free authentication by allowing the user to simply select the type of verification needed and holding up their mobile device through the identification app.
"We have made a sustained commitment to the modernization of nearly every aspect of what our department does and how customers access our services, and Thales will be a great partner as Florida now steps into the future of mobile identification," said Rhodes.
The mobile identification method will provide a plethora of advantages when compared to its physical counterpart.
They are harder to counterfeit due to a secure digitized credential that can be checked rather than simply displaying an image that is otherwise easily manipulated.
Convenience. Merging everyday-carry and identification.
Privacy. Eliminating full-display of all information on the ID based on the scenario in which it is being used.
Contact-free. No more having to hand over your license, eliminating possible contamination and spread of germs.
To elaborate on the stronger privacy advantage: users will be afforded the ability to control what information is being presented in a given scenario. For example, when entering a casino, the official checking your ID only needs to be shown a digital image and the age of the person entering. Your address, specific date of birth, and name will be completely private because of the software security technology within the app.
"As ID fraud becomes more frequent and sophisticated, we made it a priority to reinforce ID verification by adding extra software security technologies," said Tony Lo Brutto, VP NORAM, Identity and Biometric Solutions at Thales. "In the future, enterprises such as airports, hotels, car rental companies etc, in Florida will be able to rely on Thales to identify customers, while guaranteeing their privacy."
Thales secured a $2 million grant in 2016 by the U.S. National Institute of Standards and Technology to support a pilot trial and the development of digital driver's licenses in four states and districts— Colorado, Idaho, Maryland, and Washington D.C.
However, Florida residents will be able to apply for digital licenses sometime in 2021. The state will be the first in the country to deploy and implement such a program.
The days of forgetting your wallet and license at home will no longer be a burden if you are stopped on the road or need to present your license in any situation.
To learn more about the history of digital driver's licenses, click here.
About Thales
Thales (Euronext Paris: HO) is a global technology leader shaping the world of tomorrow today. The Group provides solutions, services and products to customers in the aeronautics, space, transport, digital identity and security, and defence markets. With 83,000 employees in 68 countries, Thales generated sales of €19 billion in 2019.
Thales is investing in particular in digital innovations — connectivity, Big Data, artificial intelligence and cybersecurity — technologies that support businesses, organisations and governments in their decisive moments.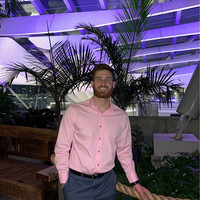 William is a South Florida native with professional experience writing at the collegiate and national news outlet level. He loves fishing, playing soccer and watching sports in his spare time and is a fan of all South Florida teams.