Mandatory Credit: Kim Klement-USA TODAY Sports
Confetti rained from the skies Sunday night at the ESPN Wide World of Sports Complex in Orlando, marking the end to the NBA's most unprecedented season in the history of the league.
A new champion was crowned, as the Los Angeles Lakers defeated the Miami Heat 106-93 en route to capturing their 17th championship title, tying the Boston Celtics for most all-time by a franchise.
Game 6 of the finals marked the end to arguably the strangest season in league history.
A fatal helicopter crash in Calabasas, Calif., involving Lakers legend Kobe Bryant tipped the first domino in the chain of events that followed this season. Two teams that had missed the playoffs just a season ago; matched up in their first finals against one another, all postseason games occurred in "The Bubble" due to COVID-19, and a string of boycotted games had fans believing the season would never come to an end.
For both teams, this season was extra special.
The Miami Heat exceeded all expert expectations coming into the season by not only making the playoffs but by making the title series with an unlikely core of veteran and young players led by bonafide superstar, Jimmy Butler. In what seemed like it was going to be a "rebuilding" season, offseason signee and team-leader Jimmy Butler had other plans in mind.
Having swept their way through the first round of the playoffs, and handling the #1 and #3 seed Milwaukee Bucks and Boston Celtics in the semi and conference final rounds, the Miami Heat were poised to finish their storybook season in Cinderella-esque fashion.
However, the Lakers set out to spoil that mission and complete their own.
Bouncing back from having missed the postseason just one year ago, the Lakers chose to pursue superstar Anthony Davis in the offseason to complete a two-headed dragon in the Western conference to rival intra-city opponents the Los Angeles Clippers.
With heavy hearts, the city of Los Angeles and its Lakers set out to finish the season with a championship—for Kobe.
The title could've gone in either direction as neither team had the traditional home-court advantage that is guaranteed in an otherwise "regular" season.
But the Heat were dealt an early blow in the series when superstars Goran Dragic and Bam Adebayo sustained Game 1 injuries that would sideline them until later games.
Carried by outstanding triple-double performances and high scoring games, Jimmy Butler refused to let his Heat team go down. Butler rested a total of 48 seconds in his Game 5 triple-double performance, and that speaks volumes about the team's resilience, garnering praise from former Heat player LeBron James…
Unfortunately, it was not enough. Miami was only able to pull two games from the series in what ultimately turned into James' 4th title and Finals MVP trophy.
Heat coach Erik Spoelstra began his postgame interview by wiping away tears for 30 seconds in an emotional goodbye until next season.
If there is something to take away from this performance from the Heat, it's that they are relentless and hungry. To wrap up the attitude of the team heading into next season, Butler said in his interview, "I told Coach Pat. I told Coach Spo. I'm here to win one. I didn't do my job. Moving forward, I have to hold up my end of the bargain." A sign of hope and optimism for fans going into next season.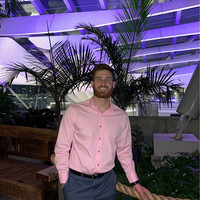 William is a South Florida native with professional experience writing at the collegiate and national news outlet level. He loves fishing, playing soccer and watching sports in his spare time and is a fan of all South Florida teams.