ORLANDO – DECEMBER 22: A sign in Orlando, FL points to the Walt Disney World Resort – Courtesy: Shutterstock – Image by Katherine Welles
After more than a year of struggling to pack the parks in Florida due to the pandemic, a promising sign of declining cases in the state point to Disney's long-awaited full capacity park operations.
Back in November 2020, Disney announced it was increasing the capacity at the Florida parks from the initial reopening limit of 25% in July to 35% just before the holiday season.
Last week, Walt Disney Company CEO Robert Chapek announced that the Florida park system could approach full capacity by year's end during the JPMorgan 49th Annual Global Technology, Media and Communications Conference.
As the company continues to monitor U.S. Centers for Disease Control and Prevention guidelines concerning COVID-19, adjustments would be made accordingly to do so at a safe junction.
According to a conference transcript, Chapek says the possibility of reopening at full capacity in Florida is within reach. "Well, we hope depending on the park, right, because you've got Disneyland which just opened, so it's much further down the curve versus Walt Disney World where we've been doing this now for about nine months. So, we are hoping that by the end of the year, like I said, that we would be at a point where we would start to accrue most of the benefits both from an attendance standpoint and from a bottom-line standpoint in terms of when we will get there."
Exact attendance numbers at the parks have not been released since the July reopening at the Walt Disney World Parks, but the company has slowly increased its reservation capacity over the past few months, with certain weekends even selling out.
"I think if you think about the throttles to the increase in attendance, I think there's a couple of things we have to consider that sort of frame that up a little bit, and one of them, of course, is labor," Chapek continued. He then expanded to talk about rehiring the workforce that was laid off to begin prep for the inevitable full capacity reopening phase, "We've actually had a really good go at it. We have found that the great majority of our cast members who we called back are ready, willing, and able to return. So we are very, very pleased with that. And that's, of course, a big one."
Along with other parks in Florida, beginning May 15, Disney loosened mask requirements when roaming around the parks in outdoor spaces.
The timeline for exactly when Disney will increase to full capacity is unknown, but if vaccination rates continue to climb and positivity rates decline, the holiday season may be the first months of true normalcy in travel.
For more stories like this, Florida Insider is your source for all things Florida. From business to nature, to sports and more, we have it all. Easy to read content at the palm of your hands and covering stories that matter.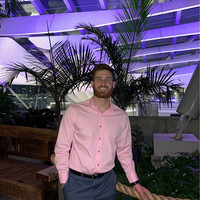 William is a South Florida native with professional experience writing at the collegiate and national news outlet level. He loves fishing, playing soccer and watching sports in his spare time and is a fan of all South Florida teams.