Beautiful living area in the Keys (a popular destination for snowbirds) Courtesy: Shutterstock – Photo By travelview
While this year has undoubtedly been the least traveled year since the inception of commercial flight (probably), there has been a boom in the real estate market in the Sunshine State, one that many never expected.
Along with the spike in homeownership in the state due to the demand for work from home, rental properties have also seen a record spike, especially in the slower months like September.
Many popular short-term rental property sites such as Airbnb and VRBO have seen an uptick in rentals since they reinstated rental properties back in May.
Although companies like such focus on weekend retreats and weeklong stays, but are also very popular for month-long stays as well. And now, to prepare for the favorably Florida winter season, some experts believe that prices will only rise.
According to an interview with Forbes, Farid Gazizov, a property manager who runs units in South Florida, estimated that "average daily rents were up from $165 in June 2019 to $193 this year, $172 to $201 in July and $189 to $207 in August." The data came from Airbnb and VRBO and was analyzed by Gazizov using a platform that affords property owners to research rental competition in their area.
According to Gazizov, the summer months are actually the slower months for short-term rentals, but this summer, rentals were up 15-20% compared to last year's figures.
The cause for this can be attributed to more in-state short term rentals by Florida residents who wanted to travel but couldn't go where they originally planned. More people have also come to Florida during the COVID-19 era because the state is one of the most lenient in terms of restrictions.
Winter prices are expected to rise about $20 on average in January and more than $200 in February per Gazizov's data.
Irina Roth, who manages a variety of rental properties in the Tampa Bay area through a company called MIDZ Home Services LLC, saw rates jump from an average of $99 per night to $135 per night, according to Forbes.
"When COVID happened, we had lots of cancellation due to travel restrictions — we have lots of international guests — followed by the short-term rental ban," Roth added. "A few days before Memorial Day weekend, we got a green light to resume renting again. Immediately, 100% of our listings got booked within hours."
Roth, who also works as an agent with Charles Rutenberg Realty, has seen more interest in people moving to Florida permanently, supporting the recent uptick in single-family home sales.
Traditionally, the properties on the market are filled with snowbirds trying to escape the harsh winter conditions from the northern states and Canada. And this winter, prices might come as a shock to those who decide to stay in the Sunshine State.
Are you interested in Florida real estate? For stories like this and much more: Florida Insider is dedicated to educating, entertaining, and informing its readers about everything Florida. Easy to read content at the palm of your hands and covering the stories that matter.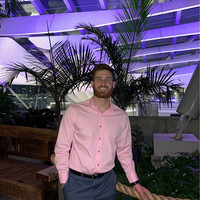 William is a South Florida native with professional experience writing at the collegiate and national news outlet level. He loves fishing, playing soccer and watching sports in his spare time and is a fan of all South Florida teams.