MELBOURNE BEACH, FL.
Alligator walking on beach – Courtesy: Shutterstock – Image by: Dave Litterio
An enormous alligator decided to start off his weekend with a day of tanning on one of Florida's beaches!
Kyle Hussey told Fox 35 News that he was enjoying a day at Melbourne Beach when he spotted a scary sight. The gator, estimated to be about 10 feet long, came swimming towards the shore from the ocean. The tired gator then took a short break by laying out in the surf, soaking up the sun's rays.
"Definitely something you don't see every day," he said.
Hussey posted the photo to the Brevard County Surf Fishing Report Facebook page with the caption "Watch your toes." The post immediately gained traction and was shared multiple times throughout social media.
He described the encounter and said that after spending some time relaxing on the beach, the gator made a run for it toward the waves. He says he left and isn't sure where it went after that.
According to NOAA (National Oceanic and Atmospheric Administration), alligators can tolerate salt water for a few hours to even days, however, they live primarily in freshwater and prefer swampy areas such as lakes, rivers, streams, and ponds.
This is the second viral video of an alligator inhabiting a Florida beach this month. Last week, another giant alligator was pulled out of Delray Beach.
Those concerned about alligators can call FWC's toll-free Nuisance Alligator Hotline at 866-FWC-GATOR. If dealing with a pesky gator, they will dispatch a contracted nuisance alligator trapper to handle the situation.
Make sure you are staying up-to-date with the latest and most important Florida news with Florida Insider. Whether you are interested in business, education, government, history, sports, real estate, nature, weather, or travel: we have something for everyone. Follow along for the best stories in the Sunshine State.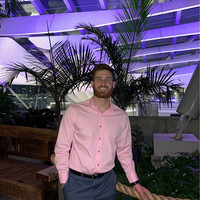 William is a South Florida native with professional experience writing at the collegiate and national news outlet level. He loves fishing, playing soccer and watching sports in his spare time and is a fan of all South Florida teams.