Treasure chest washes up on Florida shore – Courtesy: Shutterstock – Image by Isabella Pfenninger
With over 1,350 miles of beaches and natural areas along the Atlantic Ocean and Gulf of Mexico, Florida boasts the second-longest coastline of any state in the contiguous United States.
Due to its peculiar geography and topography, the state is surrounded by powerful currents, such as the loop current in the Gulf of Mexico, which shoots around the Florida Straits near the Keys and develops into the strong Gulf Stream current.
For beachcombers to discover, the currents offer a cornucopia of flotsam and jetsam that wash ashore. Some of the sea-soaked artifacts are proof of ancient battles, recent scientific discoveries, and strange devices imported all the way from Africa.
More than a week after Hurricane Nicole devastated the state's coastline, the National Park Service reported that a steamer trunk that was over a century old inexplicably turned up on a Florida beach.
Fort Matanzas National Monument said in a Facebook post that staff members from the park were notified of a "suspicious parcel" spotted on the beach and went to investigate. The park described the trunk as a "unique piece of history" despite the fact that "nothing of interest" was discovered inside.
"What we found today is a Vintage 1930s Steamer Trunk," the park said. "It is a brand called 'NEVERBREAK Trunks.' Manufactured By: L. Goldsmith & Son of Newark New Jersey."
Mike O'Meally first came upon the trunk last week and shared pictures of it on Instagram. A sandbag that looked to be tied to the chest was shown in one image.
"This is about to get weird no matter how it plays out," he wrote on Instagram.
The National Park Service declined to comment on whether the trunk might be hurricane-related debris after earlier this month's storm battered the state. Fort Matanzas is more than 50 miles away from a beachside neighborhood where the hurricane destroyed several homes.
The park "preserves the fortified coquina watchtower, completed in 1742, which defended the southern approach to the Spanish military settlement of St. Augustine," the National Park Service says.
Stories that matter are our priority. At Florida Insider, we make sure that the information we provide our readers is accurate, easy-to-read, and informative. Whether you are interested in business, education, government, history, sports, real estate, nature or travel: we have something for everyone. Follow along for the best stories in the Sunshine State.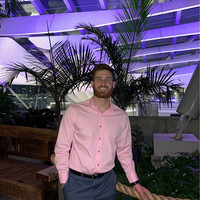 William is a South Florida native with professional experience writing at the collegiate and national news outlet level. He loves fishing, playing soccer and watching sports in his spare time and is a fan of all South Florida teams.