Courtesy: Shutterstock – photo By rblfmr
Florida… this is not a drill. White Castle is making its return to the Sunshine State after a 50-year hiatus.
The buttery, steamy, bite-sized, grilled to perfection sliders will soon be calling Florida home once again, and this time, they made it super-sized.
The Orlando Sentinel reported that "an invitation-only" groundbreaking for the restaurant is expected to take place this Thursday, November 19., in the "O-Town West development on Daryl Carter Parkway near Disney World."
The development plan includes a 4,567-square-foot burger palace, making it the largest free-standing White Castle restaurant in the world, expected in the Spring of 2021.
"Long-term, we are looking forward to marching forward and opening our first White Castle in Florida and Orlando sometime in the first few months of next year," said Jamie Richardson, White Castle's vice president of government and shareholder relations via the Orlando Sentinel.
The cult-favorite burger chain has not had a Florida location since the late 1960s and will be the company's most recent build since the Arizona launch last October.
Our opening is scheduled for spring of 2021 – so full steam ahead," added Richardson.
The restaurant has been extremely missed by many faithful followers and even has a page on Facebook called "Bring White Castle to Florida," amassing over 10,000 followers.
If that is an indication of how the lines will be, prepare for long wait times.
Last year, one couple waited 96 hours to have a taste of the famed burgers at the Arizona launch, and burgers were sold out by 8 p.m. on opening day.
White Castle became the first fast-food burger chain in the world when Billy Ingram and Walter Anderson founded it in Wichita, Kansas, in 1921.
Back then, sliders (back then known as "sacks") were sold for 5 cents a pop. Don't you wish that were still a thing?
So Florida, prepare your stomachs and maybe start getting in line if you want a taste of these iconic sliders or a trip back to your childhood.
Like what you see? Click here for more stories about everything Florida. Florida Insider is dedicated to educating, entertaining, and informing its readers about everything in Florida. Easy to read content at the palm of your hands and covering the stories that matter.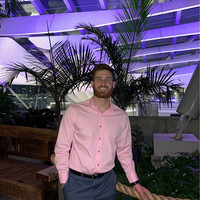 William is a South Florida native with professional experience writing at the collegiate and national news outlet level. He loves fishing, playing soccer and watching sports in his spare time and is a fan of all South Florida teams.