Close up shot of the Gordon Ramsay's Fish and Chips restaurant on OCT 12, 2018 at Las Vegas, Nevada – Courtesy: Shutterstock – Image by Kit Leong
"Where's the LAMB SAUCE? WHERE'S THE LAMB SAAAAUUUCCCEEEE?" Need we say anymore?
The British superstar, Michelin star award-winning and critically acclaimed chef Gordon Ramsay is bringing his yelling and hardcore culinary talents to Orlando later this summer.
"I'm so excited to tell you that we are opening our very first Gordon Ramsay Fish & Chips outside of Vegas — for the first time in beautiful Orlando, Florida,'" said the celebrity chef on his Instagram.
Not only will it be the first Fish & Chips outside of Sin City, but it will also mark the chef's debut in the Sunshine State.
Since the start of the pandemic, Florida has served as a safe haven for restaurants looking for a new start. Whether it was to escape a state with strict lockdowns and restrictions or a change of scenery, the Sunshine State saw one of the biggest booms in restaurant openings in recent memory.
South Florida became the permanent home to some of the most acclaimed eateries from around the nation as a result of job loss opportunities in other states and high taxation rates.
We are arriving into the summer months of 2021, and well over a year into the pandemic, new restaurants are looking to claim their spot in Florida's booming food economy.
Ramsay's Fish & Chips concept will become the newest member in the growing Florida eatery scene, joining Mickey and Friends in Orlando.
"I promise you — you're going to love it," said Ramsay.
Known for his mid-kitchen rage fits on the mighty popular reality cooking show "Hell's Kitchen," Ramsay is undoubtedly one of the most admired and feared cook masters in the world.
If his Las Vegas menu is any indication of what's to come in Orlando, patrons can expect fried fish combos, lobster and shrimp, or chicken with sea salt "chips" (fries for us Americans.) Among other things on the menu will be special sauces to dress your fish and chips, as well as specialty chips with a range of toppings.
The news was well-received in the comments section after the announcement was posted and has since sparked more cheers to expand further into Florida.
Be on the lookout for the opening date of chef Gordon Ramsay's 'Fish & Chips' eatery sometime this summer. The restaurant will be located at ICON Park on International Drive this August.
Like what you see? Click here for more stories about everything Florida. Florida Insider is dedicated to educating, entertaining, and informing its readers about everything in Florida. Easy to read content at the palm of your hands and covering the stories that matter.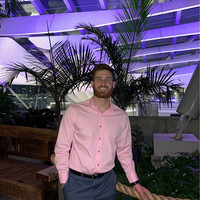 William is a South Florida native with professional experience writing at the collegiate and national news outlet level. He loves fishing, playing soccer and watching sports in his spare time and is a fan of all South Florida teams.