Courtesy: Lilium website
Flying taxis will soon invade the planned Lake Nona community in the Orlando area, according to German electric aviation startup Lilium.
The company paired up with the City of Orlando and real estate development company Tavistock to establish the Sunshine State as the "first advanced aerial mobility region" in the United States, per a company statement.
The Munich-based company is developing an all-electric, vertical take-off and landing (eVTOL) jet aircraft. Lilium, is planning to use the community of Lake Nona as the location for its first "vertiport" at Orlando's Aerotropolis.
For those who don't know, Lake Nona is a planned community that aims to provide "a global model and standard for sustainable urban development."
The proposed plan would eventually have the eVTOL jet aircrafts utilizing a 185-mile radius airstrip by 2025.
"We are thrilled to partner with Tavistock and build the first stretch of Florida's high-speed electric transportation network with Central Florida at its core," said Dr. Remo Gerber, Chief Operating Officer of Lilium. "It shows that regional high-speed air mobility can be built by private initiative and give communities such as Lake Nona, which can also serve Orlando and arrivals from its international airport, the ability to determine themselves whether they want a link into a high-speed transportation network."
According to Lilium, the vertiport locations must be approved by the Federal Aviation Administration (FAA), the Florida Department of Transportation (FDOT), and other agencies.
The plan is to have vertiports scattered throughout major cities and integrated so that it doesn't interfere with the existing landscape and architecture of the given location or city.
"For this new technology to truly reshape the transportation ecosystem and benefit Orlando residents long-term, it is going to take a true partnership between cities, developers, and transportation operators. We have been focused on finding the right partners to be a global leader in the advanced air mobility space," commented Orlando Mayor Buddy Dyer.
"I'm thrilled that our progressive and collaborative environment has created an opportunity for this unique partnership between the City of Orlando, Lilium, and Lake Nona to invest in the expansion of safe, efficient, and environmentally friendly transportation options throughout one of the fastest-growing regions in the country."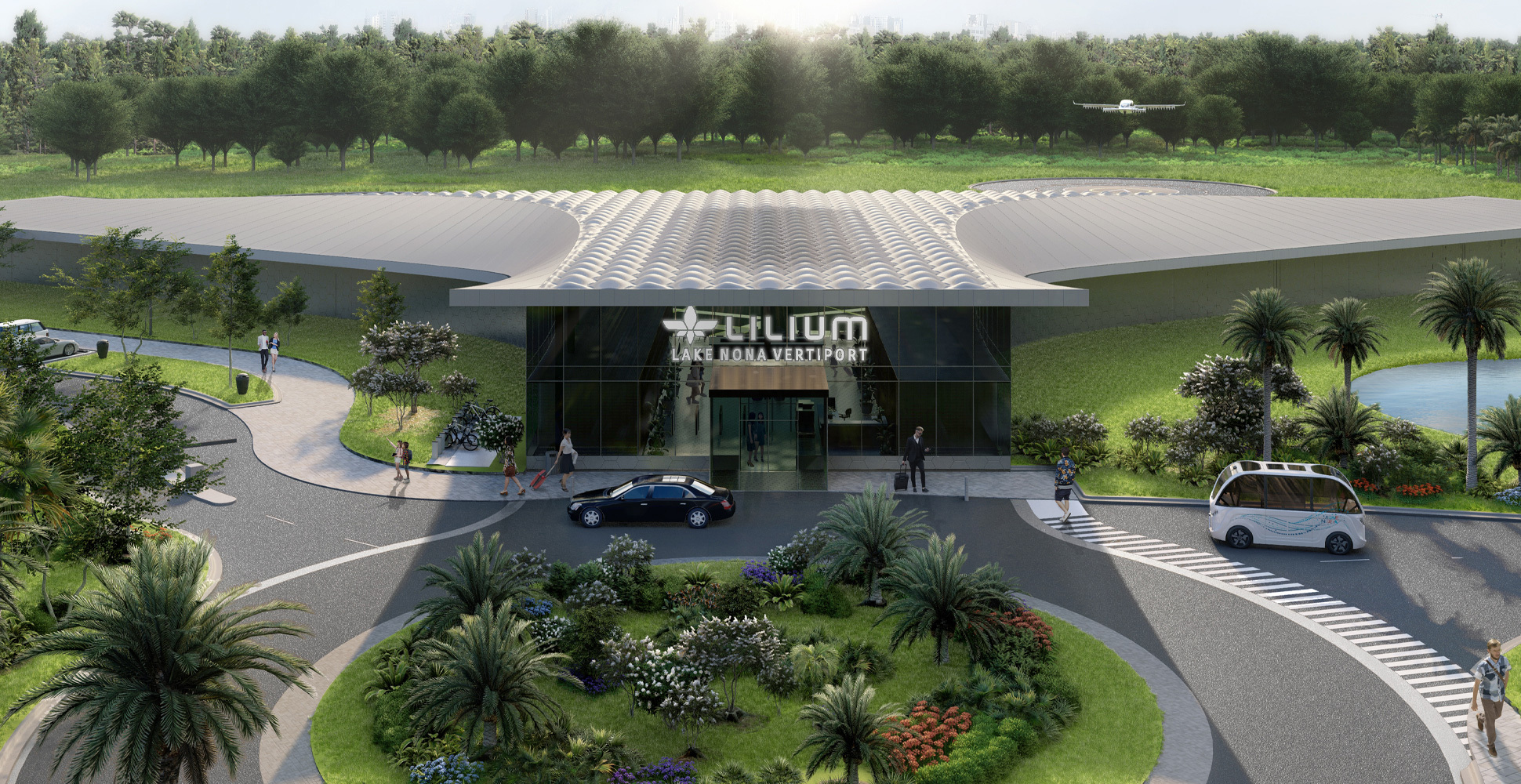 A trip to Miami, which is just within the vehicle's maximum range of 186-miles, would take roughly an hour.
"Lilium's establishment of its first US air service in Lake Nona is a groundbreaking addition to the travel options for our residents and visitors," said Tim Giuliani, president, and CEO of the Orlando Economic Partnership. "The company's revolutionary air transportation technology positions Orlando to lead the nation in regional air mobility. As a strong supporter of forward-looking regional transportation, the Partnership is excited to welcome Lilium to our region."
A world with flying cars was once unimaginable, but now seems closer than ever, and steps are being taken to create a sustainable and efficient transportation system for the future.
ABOUT LAKE NONA
Located in Orlando, Fla., Lake Nona is one of the fastest-growing master-planned communities in America developed by Tavistock Development Company. Known for thoughtfully designed neighborhoods, top-rated education facilities, the latest technology, business and research clusters, retail and entertainment centers, and diverse workspaces, Lake Nona encompasses the best Central Florida has to offer. Lake Nona sets the foundation for a collaborative relationship between the people who live, work, and visit there by prioritizing forward-thinking technology, strategic partnerships, education, and wellbeing. For more information, visit www.lakenona.com.
ABOUT LILIUM
Lilium is an aviation company developing an emissions-free regional air mobility service. It has designed and prototyped the Lilium Jet, a brand-new type of aircraft that will enable it to deliver regional journeys that are considerably faster than rail or road, yet competitive in price. The demonstrator aircraft first flew in 2019 and is a five-seater, fully-electric aircraft that can take-off and land vertically (eVTOL). Lilium expects to service a sizable global market demand by connecting communities at a fraction of the cost of conventional high-speed infrastructure, with zero operating emissions.
Co-founded in 2015 by four visionary engineers, Daniel Wiegand (CEO), Sebastian Born, Matthias Meiner and Patrick Nathen, Lilium has attracted more than $375m in funding from world-class investors such as Atomico, Tencent, Baillie Gifford, LGT, Freigeist and Obvious Ventures. Lilium is headquartered in Munich and currently employs more than 600 people.
Find out more at www.lilium.com, or follow them on Twitter, Facebook, LinkedIn, Instagram, Medium.
Like what you see? Click here for more stories about everything Florida. Florida Insider is dedicated to educating, entertaining, and informing its readers about everything in Florida. Easy to read content at the palm of your hands and covering the stories that matter.
Melissa's career in writing started more than 20 years ago. Today, she lives in South Florida with her husband and two boys.